Karachi: Death toll of heat shock casualties are continued to rise. As of today, death toll crossed 1000 human lives. The heat wave started last Saturday June 20, 2015 and since then people in Karachi are facing severe health issues including life casualties. Hospitals and graveyards are found to be short of place. Edhi Morgue was also got short for storing dead bodies. Here are some pictures of Karachi in heat this June.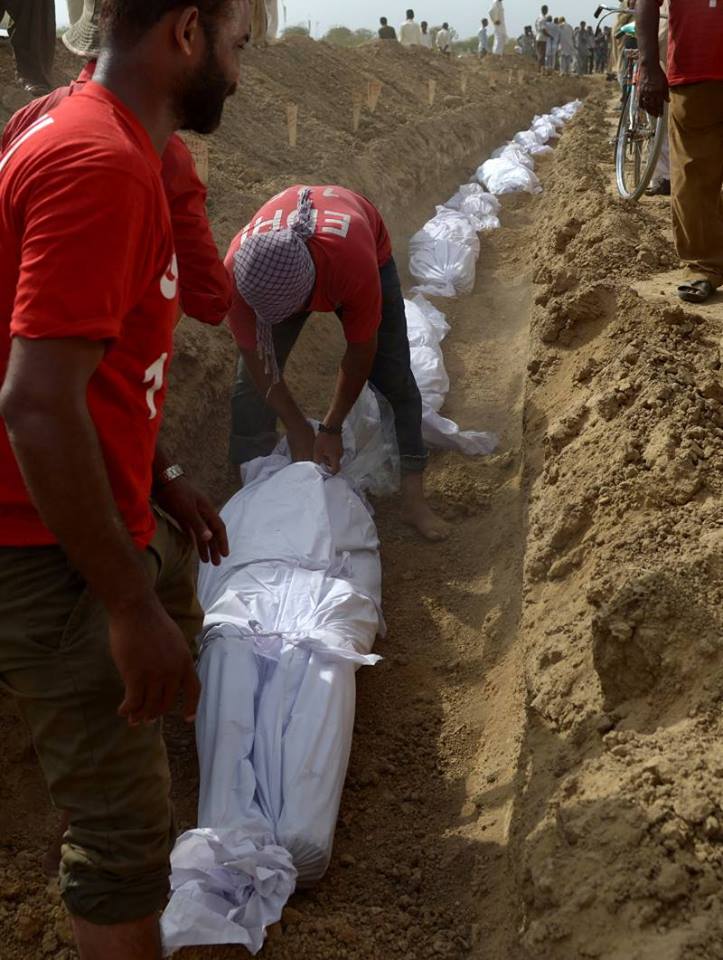 Edhi Razakars burying the unknown dead bodies
Sindh Government has announced public holiday on 24 June 2015 in the wake of deaths and casualties due to heat stroke, sun stroke, dehydration and heat shocks. Minister Information of Sindh Govt. Sharjeel Memon told media that public holiday is being observed to save people from heat shocks and dehydration problems. He also told that Members of the Provincial Assembly of Sindh would stage sit-in protests against K-Electric due to negligence in this critical situation. He said that K-Electric kept doing load shedding despite the severe wave of heat in the Karachi city.

Shadid garmi or load shedding ke bais aj Sindh bhar mein aam taateel ka elaan..
Wazir e Alaa or degar arakeen e assembly K Electric ke khilaf dharna denge. Sharjeel Inam Memon
Awam sakht garmi or dhoop me gharon se bahar na niklen. Wazir e Alaa Sindh Syed Qaim Ali Shah ki awaam se appeal.
Aam taatel ka elaan aam Water Board or Hospitals par nahi hoga.
Ehtajaj K Electric ki ghaflat or aam shehrion ke jaani nuqsan ke baais kiya jaraha hai.
Wazir e Ala Sindh Syed Qaim Ali Shah