Let's find out a delicious chicken nuggets Pakistani recipe given in Urdu and English and enjoy in Iftar, teatime, brunch and as an evening snack. You can also pack these nuggets in your kids' lunch box.
Chicken Nuggets Recipe in Urdu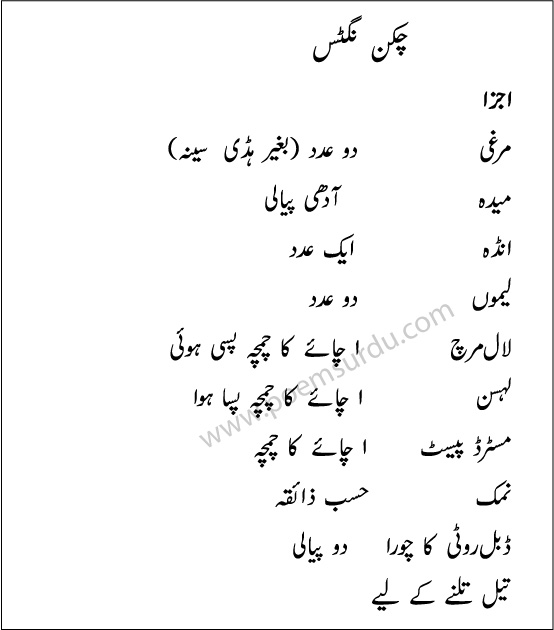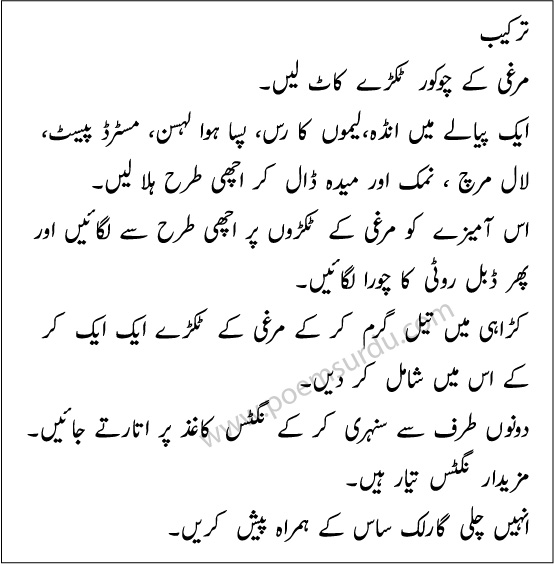 Chicken Nuggets Recipe in English
Ingredients:
Chicken: 2 whole (boneless)
All Purpose Flour: 1/2 cup
Egg: 1 no.
Lemon: 2 nos.
Red Pepper Powder: 1 tsp
Garlic: 1 tsp (crushed)
Mustard Paste: 1 tsp
Salt: as per taste
Breadcrumbs: 2 cups
Oil: for frying
Ingredients:
Cut chicken down into square cubes.
Combine egg, lemon juice, crushed garlic, mustard paste, red pepper, salt and all purpose flour in a bowl and mix well.
Apply the mixture well on chicken cubes.
Now roll the chicken pieces in breadcrumbs well.
Place aside for around 30 minutes.
Heat oil in a wok and fry chicken pieces one by one.
Fry well until chicken becomes golden brown from all sides.
Remove nuggets from the wok onto an absorbent paper.
Delicious Pakistani style chicken nuggets are ready to serve.
Enjoy hot with tomato ketchup.
Hope you found this chicken nuggets recipe in Urdu an easy one. Try this, and you would find it very tasty as well.
Incoming search terms:
chicken cheese nuggets recipe in urdu