Today, we will enjoy a tasteful crust pizza with a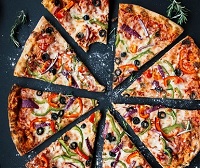 scrumptious chicken filling and mixture of wonderful topping items.
Whether it is iftar time or lovely evening, this pizza shall make all the family delighted.
Chicken Crust Pizza Recipe in Urdu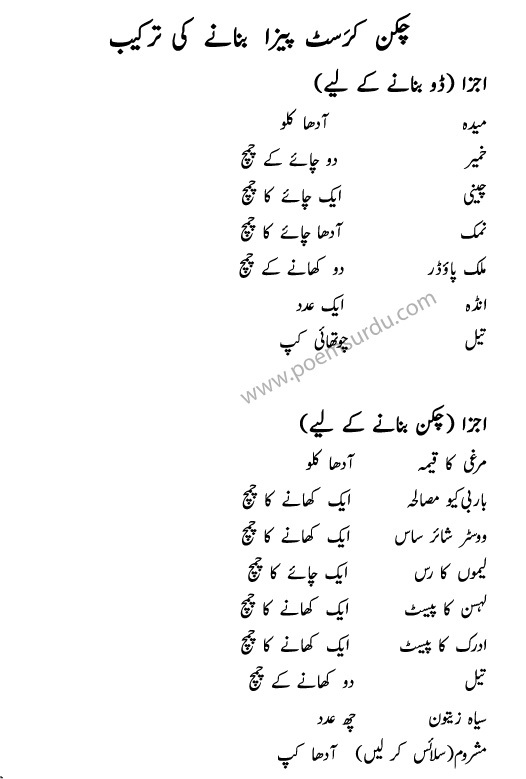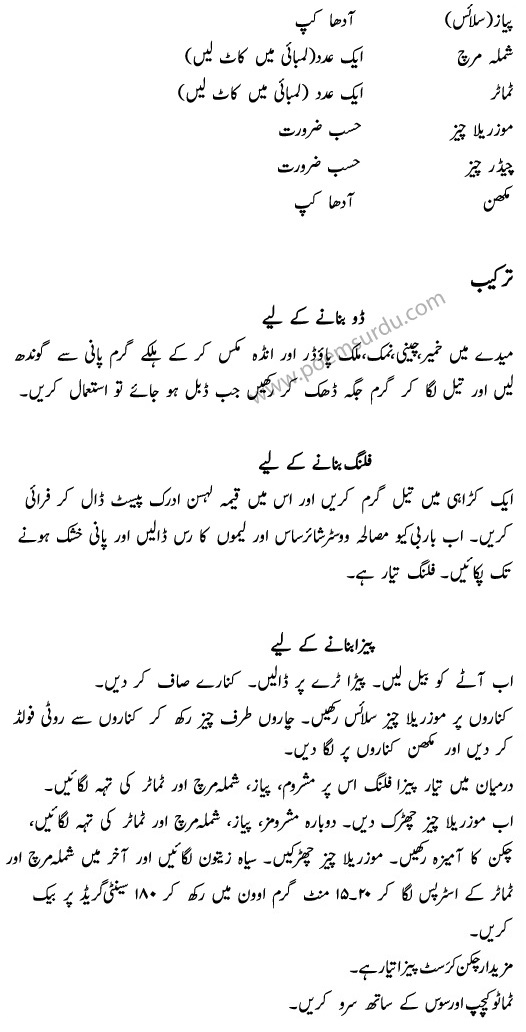 Chicken Crust Pizza Recipe in English
Ingredients:
For Making Dough:
All Purpose Flour (Maida): 1/2 kg
Yeast: 2 tsp
Sugar: 1 tsp
Salt: 1/2 tsp
Milk Powder: 2 tbsp
Egg: 1 pcs
Oil: 1/4 cup
For Chicken:
Minced Chicken: 1/2 kg
Barbeque Masala: 1 tbsp
Worcestershire Sauce: 1 tbsp
Lemon Juice: 1 tsp
Garlic Paste: 1 tbsp
Ginger Paste: 1 tbsp
Oil: 2 tbsp
Black Olives: 6 pcs
Sliced Mushrooms: 1/2 cup
Sliced Onions: 1/2 cup
Capsicum: 1 (cut in length)
Tomato: 1 (cut in length)
Mozzarella Cheese: as required
Cheddar Cheese: as required
Butter: 1/2 cup
Method:
For Making Dough:
Add yeast, sugar, salt, milk powder and egg to all-purpose flour and mix well.
Now knead the mixture with lukewarm water, apply oil and place at a warm place covered.
Once dough is inflated and bigger in size, it is ready to use.
To Make Filling:
Heat oil in a wok.
Add minced chicken, ginger garlic paste and fry together.
Add barbeque masala, Worcestershire sauce and lemon juice.
Cook until water is dried.
Pizza filling is ready.
Making Pizza:
Flatten the dough with rolling pin, put on a tray and trim the edges.
Now place Mozzarella cheese slices on the edges, fold a bit inwards from all around and apply butter.
Place filling in the center, place a layer of mushrooms, onions, capsicum and tomato slices.
Sprinkle small slices of Mozzarella and Cheddar cheese.
Again lay a layer of mushrooms, onions, capsicum and tomato.
Place chicken mixture and then Mozzarella and Cheddar cheese slices.
Place black olive slices and finally place capsicum and tomato strips.
Back for 15 to 20 minutes in a preheated oven at 180 degrees.
Delicious crust pizza is ready to enjoy.
Serve with tomato ketchup and sauces.
Enjoyed this chicken crust pizza recipe in Urdu and English? Share your thoughts and feedback please.