Let's enjoy a very special recipe of dahi pakora in Urdu (pakora yogurt dip) and serve in the iftar menu. Since it an unknown dish to many, it will give a wonderful Iftar experience to whom you serve it. Besides the Urdu recipe, you can also find the instructions in English as well.
Dahi Pakora Recipe in Urdu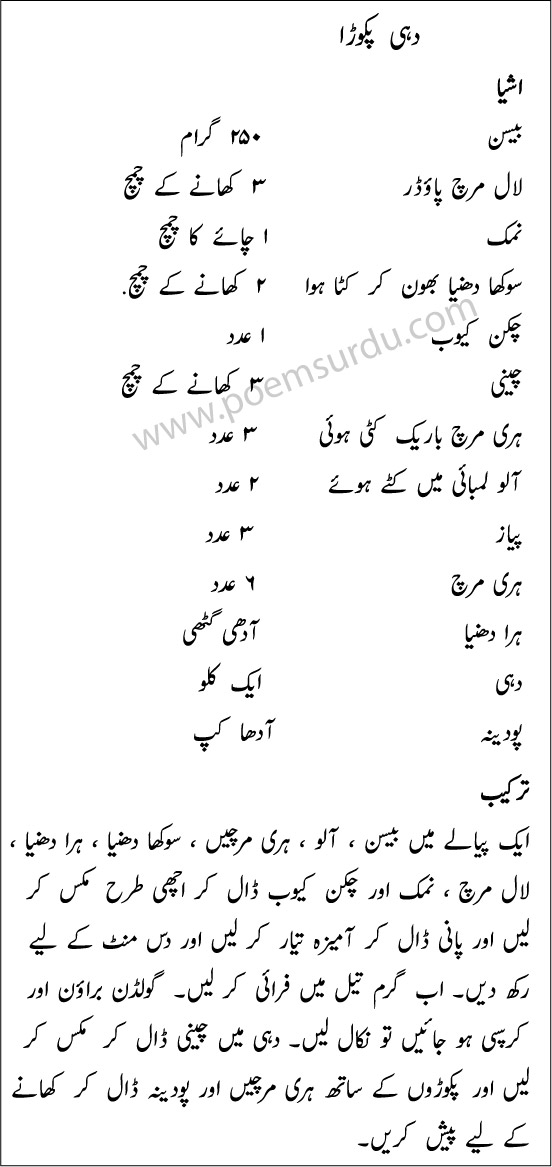 Dahi Pakoda Recipe in English (Pakora Yogurt Dip)
Ingredients:
Gram Flour: 250 grams
Red Pepper Powder: 3 tbsp
Salt: 1 tsp
Dry Coriander: 2 tbsp (roasted and crushed)
Chicken Cube: 1 no.
Sugar: 3 tbsp
Green Chillies: 3 nos. (thinly chopped)
Potatoes: 2 nos. (cut elongated)
Onions: 3 nos.
Green Chillies: 6 nos.
Green Coriander: 1/2 bunch
Yogurt: 1 kg
Mint Leaves: 1/2 cup
Method:
Combine gram flour, potatoes, green chillies, dry coriander, green coriander, red pepper, salt and chicken cube in a bowl.
Mix everything well.
Add water and mix again to form a smooth mixture; place it aside for 10 minutes.
Now fry fritters from the mixture (making pakoras).
Once they become crispy and golden brown in color, remove on a kitchen paper in a plate.
Now add sugar to yogurt and mix well.
Pakora yogurt dip is ready.
Serve dahi pakora in iftar with green chillies, yogurt and coriander leaves.

This dahi pakora recipe would bring you a joyous little treat whenever you try it. Have it in Iftar and I hope you would like to try it again even after Ramadan in the evening.
To have a variety of pakora recipes, give an attempt to rice pakora recipe, chicken pakora recipe and also try special mirch pakora recipe in Urdu.
Incoming search terms:
recipe besan pakora in urdu