Fill up your Eid meals with this tasteful Eid special biryani recipe and enjoy with your family. Made with beef, potatoes and spruced up with addition of coal, this delicious biryani would make your day. Let's enjoy the recipe and serve in lunch or dinner on this festive day.
Eid Biryani Recipe in Urdu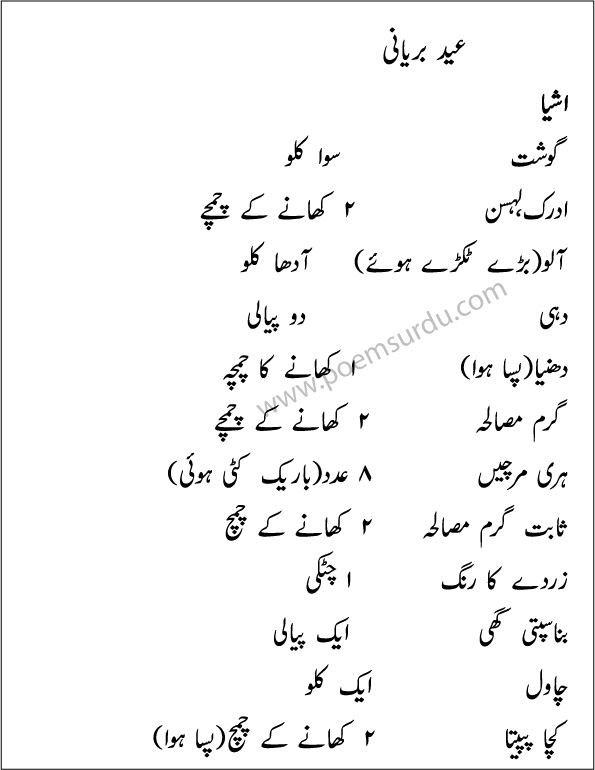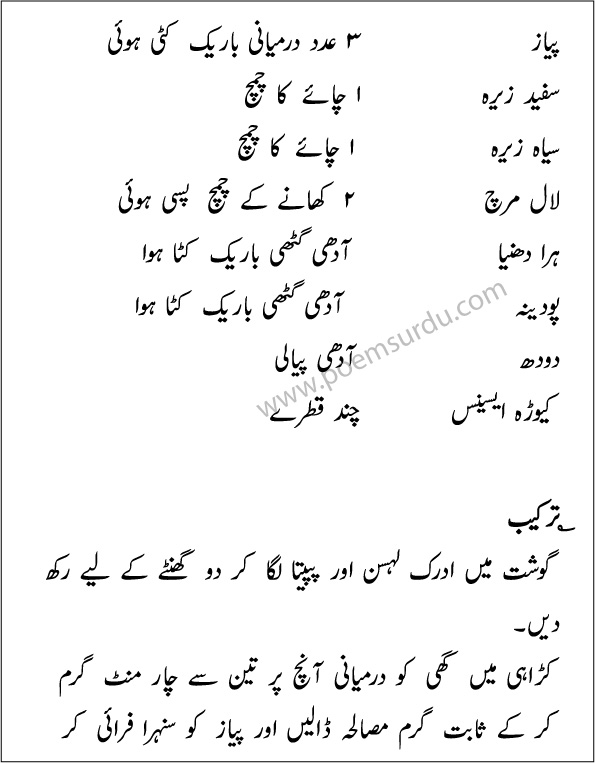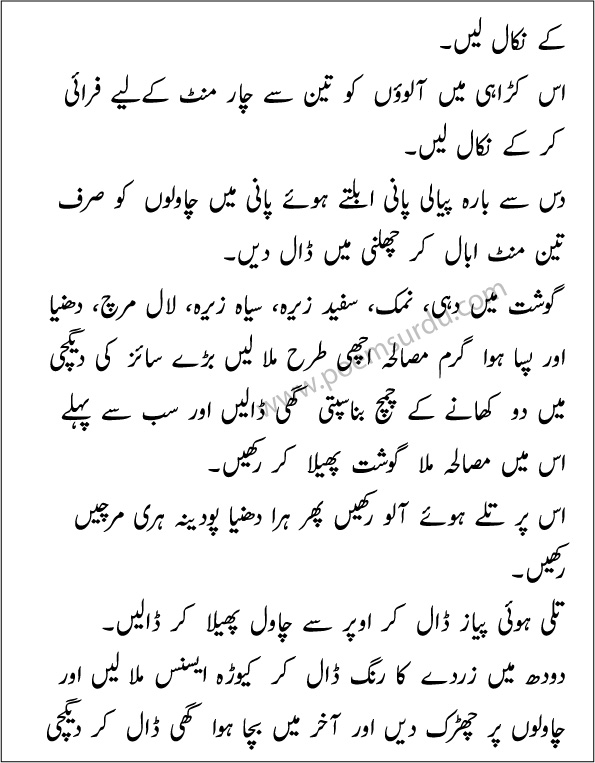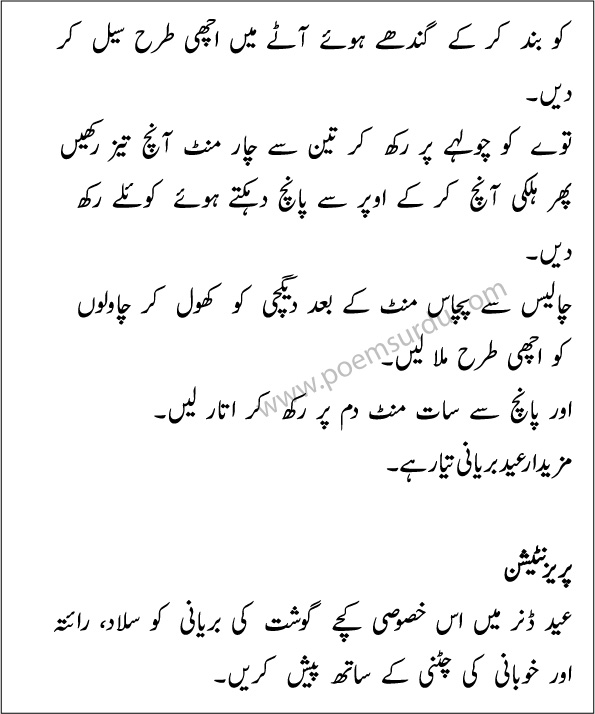 Eid Special Biryani Recipe in English
Ingredients:
Beef: 1250 grams
Ginger Garlic Paste: 2 tbsp
Potatoes (large pieces): 1/2 kg
Yogurt: 2 cups
Coriander Powder: 1 tbsp
All Spice Powder: 2 tbsp
Green Chillies: 8 pcs (thinly chopped)
Whole All Spice: 2 tbsp
Yellow Food Coloring: 1 pinch
Banaspati Ghee: 1 cup
Rice: 1 kg
Raw Papaya: 2 tbsp (powdered)
Onion: 3 pcs medium (thinly chopped)
White Cumin: 1 tsp
Black Cumin: 1 tsp
Red Pepper Powder: 2 tbsp
Green Coriander: 1/2 bunch (thinly chopped)
Mint Leaves: 1/2 bunch (thinly chopped)
Milk: 1/2 cup
Kewra Essence: few drops
Method:
Add ginger garlic and raw papaya powder to meat, apply well and place aside for 2 hours.
Heat ghee in a wok for 3 to 4 minutes on medium flame, add in the whole spice.
Now add onion, fry until golden brown and then remove from the wok.
Then fry potatoes for 3 to 4 minutes and remove.
Now heat 10 to 12 cup water and bring to boil.
Boil rice for 3 minutes in it and strain the water.
Now add yogurt, salt, white cumn, black cumin, red pepper, coriander and all spice powder to the beef you placed aside. Mix well everything with the beef.
Add 2 tablespoon banaspati ghee in a large size pan, put spiced beef (spread across the pan).
Place fried potatoes over the meat.
Then sprinkle green coriander, mint leaves and green chillies.
Add fried brown onion and then spread the boiled rice across the pan.
Mix yellow food coloring into the milk and then add kewra essence and sprinkle over the rice.
Finally add the remaining ghee into the pan and seal with knead flour.
Place the pan on stove on high flame for 3 to 4 minutes.
Then lower the flame and place 4 to 5 pieces of burning coal.
After 40 to 50 minutes, open the pan and mix the rice well.
Now cook it on steam for 5 to 7 minutes (dam pe rakh den).
Delicious Eid biryani is ready.
Presentation:
Serve this special raw meat Eid biryani in the dinner with salad, raita and apricot chutney and enjoy with your family.

If you enjoyed this scrumptious biryani on Eid ul Fitr or Eid ul Adha, let us know about your feedback on Eid Biryani Recipe in Urdu.