Enjoy a delicious recipe of fried beef sandwich in Urdu at Iftar this Ramadan. You can serve these sandwiches as a snack item on Eid day as well. These sandwiches are made with hunter beef and are really tasteful; you can also enjoy them at brunch.
Fried Beef Sandwich Recipe in Urdu (For Iftar or Eid)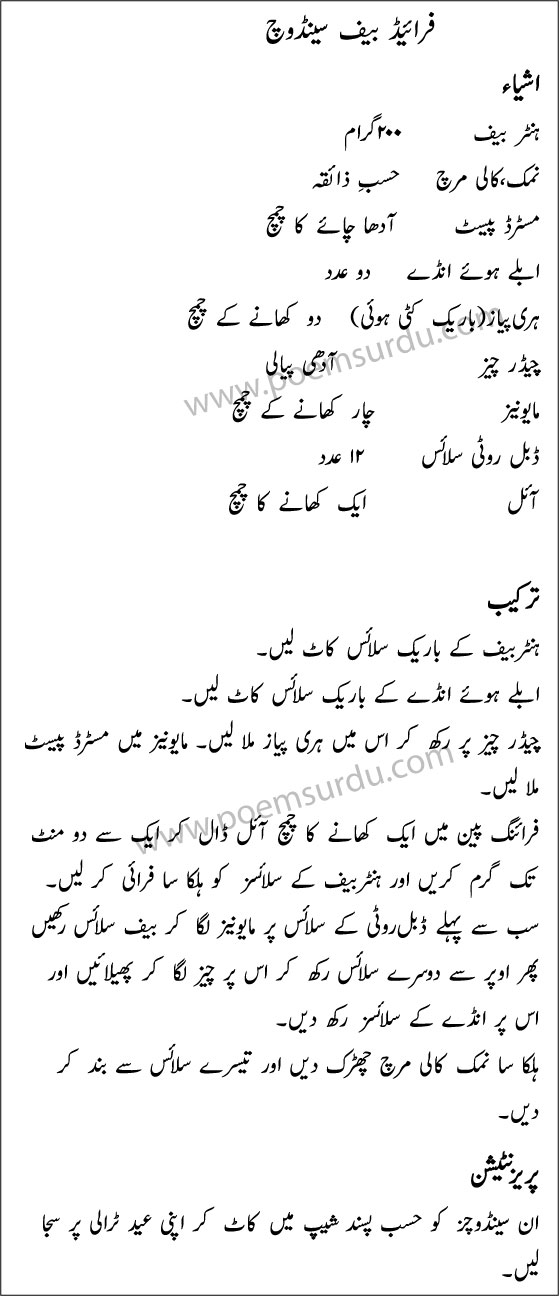 Beef Sandwich Recipe and Procedure in English
Ingredients:
Hunter Beef: 200 grams
Salt: as per taste
Black Pepper: as per taste
Mustard Paste: 1/2 tsp
Boiled Eggs: 2 nos.
Spring Onion: 2 tbsp (thin sliced)
Cheddar Cheese: 1/2 cup
Mayonnaise: 4 tbsp
Bread: 12 slices
Oil: 1 tbsp
Method:
Cut hunter beef into thin slices.
Then cut boiled eggs into thin slices as well.
Place spring onion on Cheddar cheese and mix.
Add mustard paste to mayonnaise and mix thoroughly.
Heat 1 tablespoon oil in frying pan for couple of minutes.
Slightly fry all the hunter beef slices.
First apply mayonnaise and mustard paste mixture on a bread slice.
Place hunter beef slices.
Place another slice on it and apply cheese and then place egg slices.
Sprinkle salt and black pepper as per taste.
Close the sandwich with third slice.
Fried beef sandwiches are ready.
Presentation:
Cut sandwiches in desired shapes and serve on Eid trolly or on Iftar table.
Try fried beef sandwich recipe in Urdu and if you really liked its taste, share your feedback about the recipe. Don't forget to make them for iftar and Eid ul Fitr.