Today we are going to learn a delicious easy macaroni recipe using spicy ingredients and vegetables. We have also offered this macaroni mix chaat recipe in English and Urdu, both languages for ease of readers. You can make this recipe for any events like Iftar or for an evening tea time, within minutes.
Spicy Macaroni Chaat Recipe in Urdu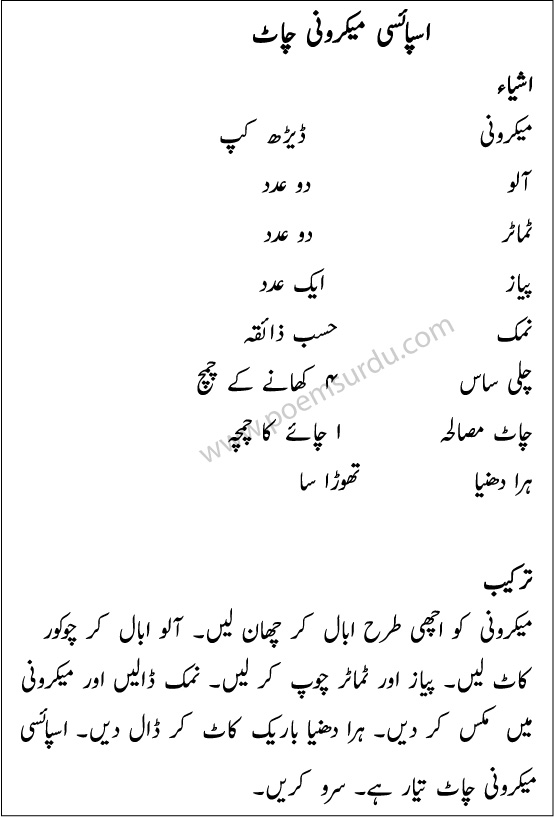 Spicy Macaroni Chaat Recipe in English
Ingredients:
Macaroni: 1-1/2 cup
Potatoes: 2 nos.
Tomatoes: 2 nos.
Onions: 1 no.
Salt: as per taste
Chilli Sauce: 4 tbsp
Chaat Masala: 1 tsp
Green Coriander: few leaves
Method:
Boil macaroni well, then strain the water out.
Boil potatoes and cut in small cubes.
Chop tomatoes and onions well.
Add salt and mix everything with macaroni very well.
Cut green coriander leaves finely and sprinkle over the macaroni.
Spicy macaroni chaat is ready.
Serve on iftar table or in a hi-tea party and enjoy.
Enjoy this spicy macaroni recipe in Urdu at Iftar time, in the evening when you feel like having something spicier with sips of your tea cup. If you already enjoy our recipe, let us know about it's taste.
Incoming search terms:
macaroni chaat recipe in urdu