Let's enjoy a very special phool gobhi pakora recipe in Urdu and serve on the iftar table. It will definitely make the difference and bring you praise and appreciation. We have given the recipe of cauliflower pakora in English as well.
Phool Gobi Pakora Recipe in Urdu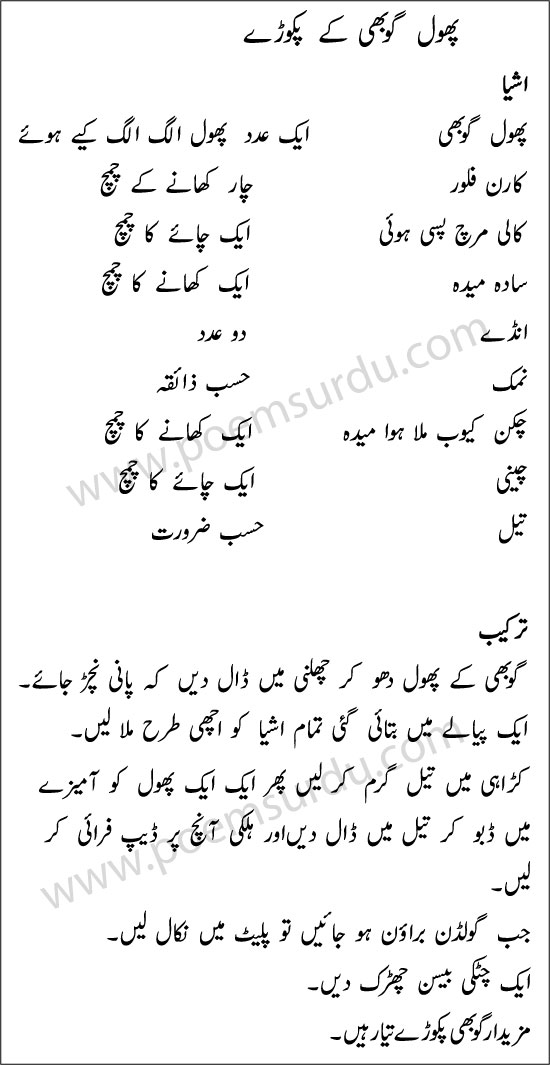 Phool Gobi Pakora Recipe in English
Ingredients:
Cauliflower: 1 no. (florets detached)
Corn Flour: 4 tbsp
Black Pepper Powder: 1 tsp
All-purpose Flour: 1 tbsp
Eggs: 2 pcs
Salt: as per taste
Chicken Cube Added All-purpose Flour: 1 tbsp
Sugar: 1 tsp
Oil: as required
Method:
Wash cauliflower florets and place in a strainer; remove the excess water.
Mix all ingredients in a bowl except the oil.
Heat oil in a wok.
Dip each cauliflower floret in the mixture and then put in the oil.
Deep fry on low flame.
Once they turn golden brown, remove in a plate.
Sprinkle a pinch of gram flour.
Spicy gobi pakoray are ready.
Serve at iftar table and enjoy with your family.
We thought this phool gobi pakora recipe in Urdu would bring a change to your everyday menu.
Now it's your turn!
Try the recipe, check it's taste and let us know about your experience.
If you like this gobhi pakora, make a rice pakora for next iftar, or a chicken pakora recipe in Urdu. Furthermore, if you have some fish at home, get this fish pakora recipe in Urdu and see how it tastes.