These days Pakora is a must for every kitchen as due to preparation of snacks in Iftar everyday.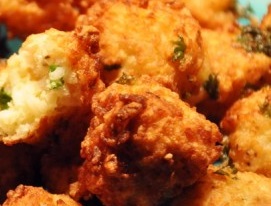 So here we tell you about a simple recipe of rice pakora that is really great in taste.
These chawal pakoray are made with boiled rice and note that you can make them with leftover rice as well.
So let's continue to the recipe.
Rice Pakora Recipe in Urdu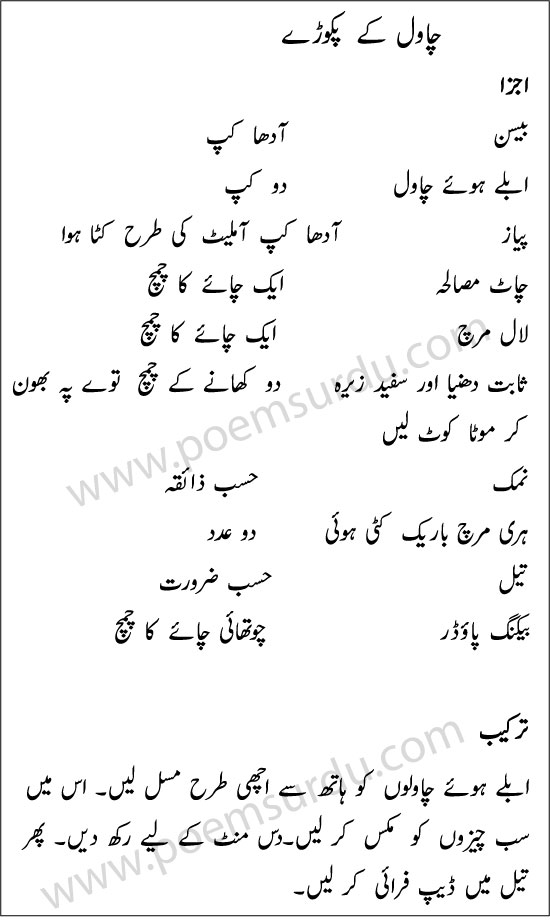 Chawal Ke Pakode Recipe in English
Ingredients:
Gram Flour: 1/2 cup
Boiled Rice: 2 cups
Onions: 1/2 cup (cut like you do for making omelette)
Chaat Masala: 1 tsp
Red Pepper: 1 tsp
Whole Coriander and White Cumin: 1 tbsp each (roast on griddle and crush roughly)
Salt: as per taste
Green Chillies: 2 pcs (thinly chopped)
Cooking Oil: as required
Baking Powder: 1/4 tsp
Method:
Rub boiled rice with palms very well.
Mix all items now with rice except oil.
Keep the mixture aside for 10 minutes.
Now take small fritter size pieces from the mixture and deep fry in the oil.
Once they turn golden brown, remove from the wok.
Delicious rice pakora (chawal ke pakode) are ready to serve.
Enjoy with chutney at iftar time.

Rice Pakoda is a famous iftar snack eaten passionately in Pakistan and India. Since it is a quick food, it is also considered for iftar menu in many countries. You can either use regular rice or leftover rice to make chawal ke pakode and enjoy at home. If you want to change the flavor of pakora next day, you must make chicken pakora recipe which is a superb iftar snack as well.
Looking for even more?
Have a look at mirch pakora recipe in Urdu and also give a try to fish pakora recipe some day in this Ramadan month.
Incoming search terms:
bread pakode bnaneka tareka
chawal fry banane ki recipe
ramzan fuood resepi bananyka tareka
rice pakora recipe in urdu
Rice pkora recepie in urdu