Nasir Kazmi Biography
Nasir Kazmi (ناصِر کاظمی) was an outstanding Urdu poet from Pakistan. Nasir Kazmi was born on December 08, 1925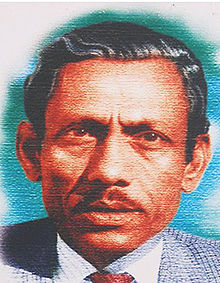 at Ambala city of unpartitioned India. Kazmi was one of the leading poets of Urdu language of his time. He was famous to use basic Urdu words in his poetry that other poets lacked. He wrote simplest poetry by using words like 'Yaad', 'Raat', 'Baarish', 'Tanhai' etc. Nasir Kazmi poetry is read in Pakistan and India still after decades of his death. Publications of Nasir Kazmi ghazals are still published and can be availed at Urdu book shops in Pakistan and India.
Kazmi got his early education at Ambala and later he went to Lahore where he continued his studies at Islamia College. In 1945, he returned to Ambala and looked after land of his ancestors. In 1947, when Pakistan was founded, he migrated to Lahore where he started his career in journalism. He started working as an editor at Auraq e Nau and later in 1952, he became editor-in-chief of an Urdu magazine 'Humayun'. In the years by and by, he worked as staff editor at Radio Pakistan Lahore and at several other literary organizations.
[adsense_inserter id="3060″]
Nasir Kazmi Poetic Career
Kazmi, inspired by style of Akhtar Sherani, started writing romantic poems in 1940. Onward, he started writing Urdu ghazals with the help of his mentor Hafeez Hosyarpuri. Kaazmi was also inspired by legendary poet of the region Mir Taqi Mir as the melancholy Mir used in his literature is also reflected in Nasir Kazmi shayari. He learned saying poetic verses by his mentor Hafeez Hoshyarpuri who was also known to use symbols from the nature in his poems. Nasir also hummed his couplets which always fascinated his poetry listeners.
In 1947, when Pakistan came into being, he migrated from his ancestral city Ambala, India to Lahore, Pakistan. He liked to pass his time at Tea House and Wander at Mall Road, Lahore. He was an eager foodist. He liked to wander with his friends and to enjoy life with every possible means. Studying Nasir Kazmi sad poetry, people termed often termed him as a melancholic poet however many pieces of his poetry were based on romantic hope as well.
He died on March 02, 1972 due to stomach cancer in Lahore. Days before his death, he gave a remarkable interview in a television program. He said:
"Horse riding, hunting, wandering in a village, walking along the river side, visiting mountains etc. were my favorite pastimes and probably this was the time when my mind got nourishment for loving nature and getting close to the expression of poetry. All my hobbies are related with fine arts, like singing, poetry, hunting, chess, love of birds, love of trees… I started poetry because I used to reflect that all the beautiful things, those I see and those in nature, are not in my hands, and they go away from me. Few moments, that time which dies, cannot be made alive. I think can be alive in poetry, that is why I (Nasir) started poetry!".
Basic Bio:
Full Name: Syed Nasir Raza Kazmi
Date of Birth: December 08, 1925
Birth Place: Ambala
Date of Death: March 02, 1972
Death Place: Lahore
Famous Nasir Kazmi Books:
Pehli Barish
Kulliyat e Nasir
Diwan e Nasir
Barg e Nay
[adsense_inserter id="3100″]
FAMOUS Poetry by NASIR KAZMI:
Dil Dharakne Ka Sabab Yaad Aaya
Wo Teri Yaad Thi Ab Yaad Aaya

Read Full Poetry Here:
Dil Dharakne Ka Sabab Yaad Aaya
Study More Nasir Kazmi Poetry at: https://www.poemsurdu.com/poetry/nasir-kazmi/