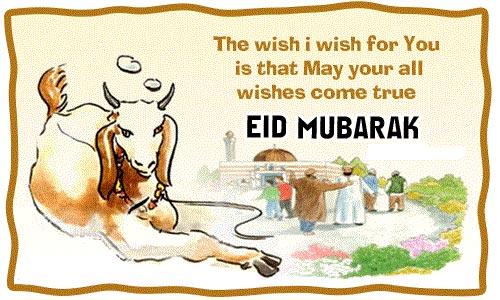 Bakra Eid SMS
Everyone Sent U Tradition Words About Eid
But I M The Fist One To Send U"Meat Mubarak"
And Keep On Eating Different Dishes On This Season!
Bakraa Eid Mubarak!
Bakra Eid Sms 2Ao Milain Keh Aj Eid Ka Din He
Musaraton Muskuraahaton or Deed Ka Din He
Gilay Bhula Dein, Dilon Ko Saf Abb Kr Len
Ranjishon Ko Mita Lain Ke Saat e Saeed Ka Din He

Happy Bakra Eid Mubarak
Bakra Eid Sms 3
Sunaheri Dhuup Barsaat Ke Baad
Thorri Si Hassi Hr Baat Ke Baad
Ussi Tarha Houn Mubarak
Yeh Bakra Eid, Eid-ul-Fitar K Baad
Wish You A Very Special
.*.*Happy Bakra Eid.*.*..
Bakra Eid Message 4
No Poetry, No Verses,
No Card, No Art,
Only 2 Special Words,
Right From the Heart,
Happy Bakra Eid
(__)
[','/-;——-
\ ]\,
]/ ]/ ]/ ]/
Wishing you a Bakraa Eid Mubarik
and Sending You This BAKRA as EID Gift.
[adsense_inserter id="3100″]
Funny Bakra Eid Poetry SMS
AA GAE WOHI DIN..
Woh mandi ki matti or dhool
Woh sardi mein mandi ko jana
Or phir jaanwaron ke saath latak kr ana
Wo baarey mein raat bhar jaagna
Wo jaanwaron ka chaara banana
Wo haar le kay aana
Wo paayal pehnaana
Ab woh din hen qareeb
I Wish U a Happy Bakra Eid
[adsense_inserter id="5423″]
Qurbaani Karna, Eid Manana
Khoob Khushi Kay Naghme Gana
Jo Gham Kay Maaray Hain Be Charay
Unko Lekin Bhool Na Jana
Enjoy Bakra Eid Sms in Urdu and English and also find a decent collection of Eid ul Adha Greetings Sms