Darde Dil Chahiye Chashm e Tar Chahiye Mujh Ko Aaqa Ki Piyari Nazar Chahiye. Listen to this naat mp3, download audio and read lyrics in Urdu and Roman Urdu.


Listen Dard e Dil Chahye Naat Mp3
LYRICS IN URDU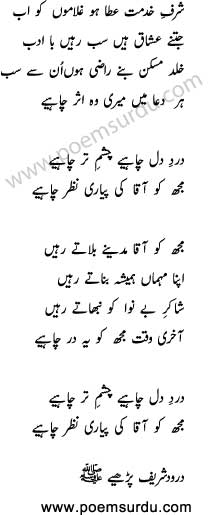 Lyrics in Roman Urdu
Dard-e-Dil Chahiye Chashm-e-Tar Chaheye
Mujh Ko Aaqa Ke Piyari Nazer Chahiye
He Munawwer Zeya Se Yeh Sara Jahaan
Sub Key Dil Ki Haqeeqat Hey Unpar 'Ayaan
Mairey Dil Ki Tamanna Hey Jaan e Jahan
Noor Ki Aik Kiran Ab idhar Chaahiye
Sarvarey Do Jahan Ka Hey Behad Karam
Zaatey Waala Sey Qaayim Hey Mera Bharam
Mujh Ko Aaqa Dikhatey Ho Apna Haram
Aap Ki Deed Ko Chashm e Tar Chaahiye
Khud Khudaa Ne Banaaya He Tum Ko Habeeb
Or Uss Ne Banaya He Tum Ko Tabeeb
Marz e 'isyaan Sey Ab To Shifaa Hu Naseeb,
Sunnatun Per 'Umal 'Umar Bhar Chaaheye
Ya Nabi Mujh Pe Hu Aik Karam Ki Nazar
Baar e 'isyaan Se Ab Tu Jhuki He Kamar
Koi Husn e 'Umal To Naheen He Magar
Mujh Ko Bakhshish Ka Zaad-e-Safar Chaahiye
Bheek 'elm o 'Umal Kee 'Ataa Keejiye
Apne Sunnat Ka Paiker Banaa Deejiye
Jaam-e-'Ulfat Mujhy Ab Pilaa Deejiye
Waqt-e-Aakhir Mujhey Wo Nazar Chahiye
Sherf e Khidmat 'Ataa Ho Ghulamon Ko Ab
Jitney 'Ushaaq Hen Sub Rahy Baa Adab
Khuld Muskan Baney Or Raazi Ho Rab
Her Du'a Main Mairi Wo Asar Chaheye
Jo Mujahid Philisten Main Hain Shahaa
Aas Tum Per Laga Ker Hee Paayain Jilaa
Khaak Main Zalimon Ki Miley Ab Jafaa
'Aashiqon Kay Liye Ab Zafar Chaahiye
Mujh Ko Aaqa Madeeny Bulatey Rahay
Shakir e Bey Nawaa Ko Nibhatay Rahey
Apna Mehman Hameysha Banatey Rahey
Aakhri Waqt Mujh Ko Yeh Dar Chahiye.