Jawad Ahmed's dosti song Oo Mere Yaar Tu Mera Pyar Sada Rahe Tu Salamat, is one of best national song which truly depicts the life or Pakistan Army men. Song video portrays how Army jawans do miss their life with friends and family while defending the borders of Pakistan. Bravo to those mothers who allow their lusty sons to risk their lives for security of homeland Pakistan.
Listen song audio online, download free mp3 and must watch the emotion-filled video of this national song.
O Mere Yaar Tu Mera Pyar Mp3 Download:
Watch Video:
.
Dosti Song Jawad Ahmed Lyrics in Urdu: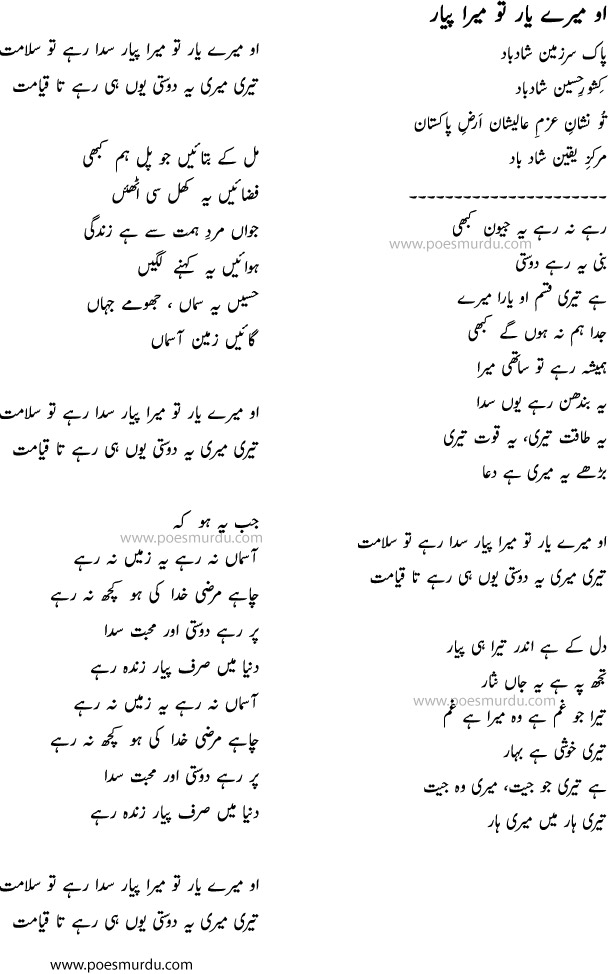 Teri Meri Yeh Dosti Lyrics in Roman:
Pak Sar Zameen Shad Bad
Kishwar e Haseeb Shad Bad
Tu Nishan e Azm e Aalishan
Arz e Pakistan
Markaz e Yaqeen Shad Baad
———————————
Rahe Na Rahe Ye Jeevan Kabhi
Bani Ye Rahe Dosti
Hai Teri Qasam Oo Yara Mere
Juda Hum Na Honge Kabhi
Hamesha Rahe Tu Sathi Mera
Ye Bandhan Rahe Yun Sada
Ye Taqat Teri, Ye Quwwat Teri
Barhe Ye Meri Hai Dua
Oo Mere Yaar Tu Mera Pyar Sada Rahe Tu Salamat
Teri Meri Ye Dosti Yun Hi Rahe Ta Qayamat
Dil Ke Hai Andar Tera Hi Pyaar
Tujh Pe Hai Ye Jaan Nisar
Tera Jo Gham Hai Wo Mera Hai Gham
Teri Khushi Hai Bahaar
Hai Teri Jo Jeet, Meri Woh Jeet
Teri Haar Mein Meri Haar
Oo Mere Yaar Tu Mera Pyar Sada Rahe Tu Salamat
Teri Meri Ye Dosti Yun Hi Rahe Ta Qayamat
Mil Ke Bitaaen Jo Pal Hum Kabhi
Fizaen Ye Khil Si Uthen
Jawan Mard Himmat Se Hai Zindagi
Hawaain Yeh Kehne Lagen
Haseen ye Samaan, Jhoome Jahan
Gaaen Zameen Aasman
O Mere Yaar Tu Mera Pyar Sada Rahe Tu Salamat
Teri Meri Ye Dosti Yun Hi Rahe Ta Qayamat
Jab Ye Ho Ke…..!
Aasman Na Rahay Ye Zameen Na Rahay
Chahay Marzi Khuda Ki Ho Kuch Na Rahay
Par Rahey Dosti Aur Muhabbat Sada
Dunya Mein Sirf Pyar Zinda Rahe…
Aasman Na Rahay Ye Zameen Na Rahay
Chahay Marzi Khuda Ki Ho Kuch Na Rahay
Par Rahey Dosti Aur Muhabbat Sada
Dunya Mein Sirf Pyar Zinda Rahe…
O Mere Yaar Tu Mera Pyar Sada Rahe Tu Salamat
Teri Meri Ye Dosti Yun Hi Rahe Ta Qayamat