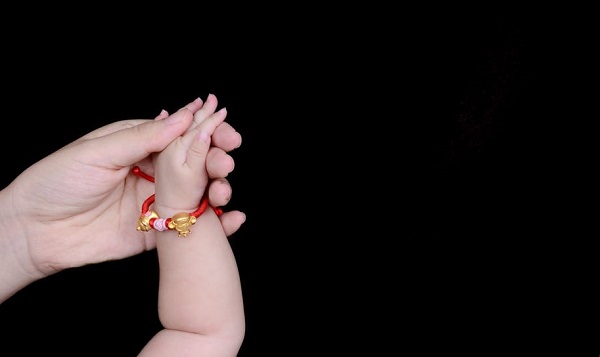 Find beautiful Urdu poetry and Mother's Day Shayari in Urdu and dedicate to your beloved mom on May 12, 2019. Here is one of the best collections of Urdu ghazals and Maan Urdu shayari for you.

[adsense_inserter id="6236″]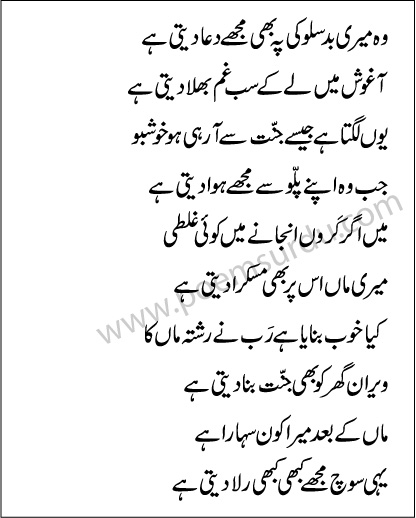 Mother's Day Poetry in Urdu – 1
Woh Meri Bad Suluki Peh Bhi Mujhay Duaa Deti Hai
Aaghosh Mein Lay Kay Sub Ghumm Bhulaa Daiti Hai
Yunn Lagta Hai Jesey Jannat Sey Arahi Ho Khushbuu
Jab Woh Apnay Palluu Sey Mujhay Hawa Daiti Hai
Main Agar Karuun Anjanay Mein Koii Ghalati
Mairi Maan Us Par Bhii Muskuraa Daiti Hai
Kiya Khoob Banaya Hai Rab Nay Rishta Maan Ka
Weeran Ghar Ko Bhi Jannat Banaa Daiti Hai
Maan Key Baad Mera Kaun Sahara Hai
Yehi Soch Mujhay Kabhi Kabhi Rula Daiti Hai
[adsense_inserter id="6236″]
Mother's Day Shayari in Urdu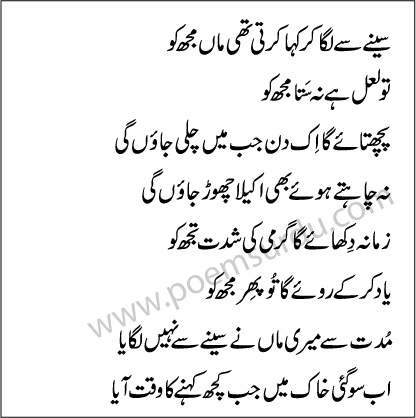 Maan Poetry in Urdu – 2
Seene Say Laga Karr Kaha Karti Thee Maan Mujh Ko
Tuu Laal Hai Naa Sataa Mujhko
Pachhtaye Ga Ik Din Jab Main Chali Jao Gi
Na Chahatay Huwe Bhi Akaila Chhor Jao Gi
Zamanaa Dikhaye Ga Garmi Ki Shiddat Tujhko
Yaad Kar Ke Roye Ga Tuu Phir Mujhko
Muddat Se Meri Maan Nay Seenay Se Nahi Lagaya
Ab So Gayi Khaak Mein Jab Kuch Kehnay Ka Waqt Aaya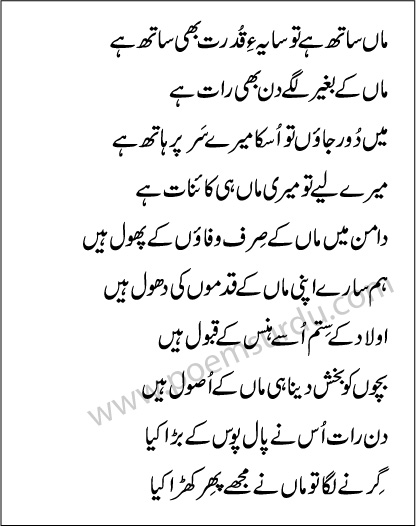 Mothers Day Poetry in Urdu No. 3
Maan Saath Hay To Saaya e Qudrat Bhi Saath Hay
Maan Ke Baghair Lagey Din Bhi Raat Hai
Main Duur Jaaon Tou Uska Meray Sarr Par Haath Hay
Meray Liye Tou Meri Maan Hi Kaainat Hay
Daaman Mein Maan Kay Sirf Wafaaon Ke Phool Hain
Hum Saaray Apni Maan Kay Qadmon Ki Dhool Hain
Aulaad Ke Sitam Usay Hans Kar Qubool Hain
Bachhon Ko Bakhsh Dena Hi Maan Kay Usool Hain
Din Raat Us Nay Paal Poss Ke Bara Kiya
Girnay Laga Tou Maan Nay Mujhya Phirr Kharra Kiya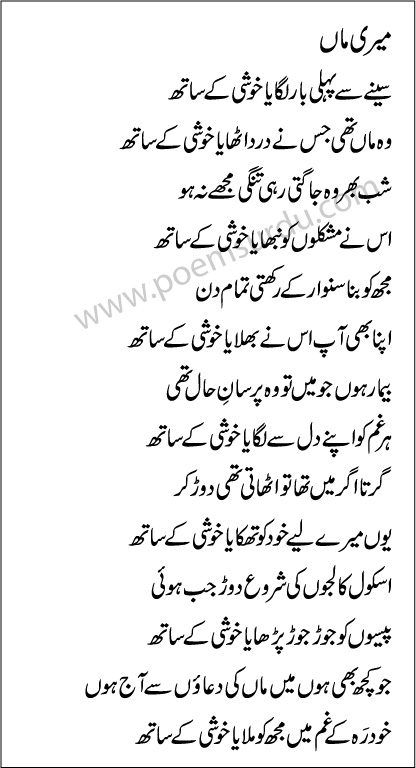 Mother's Day Shayari in Urdu – 4
Meri Maan
Seenay Say Pehli Baar Lagayaa Khushi Kay Saath
Woh Maan Thi Jis Nay Dard Uthaya Khushi Kay Saath
Shab Bhar Woh Jaagti Rahi Tangi Mujhay Na Hou
Us Nay Mushkilon Ko Nibhaya Khushi Kay Saath
Mujhko Banaa Sanwaar Kay Rakhti Tamaam Din
Apna Bhi Aap Uss Nay Bhulaya Khushi Kay Saath
Bimaar Houn Jo Main Tou Woh Pursaan Haal Thii
Har Ghamm Ko Apnay Dil Say Lagaya Khushi Kay Saath
Girta Agar Main Tha Tou Uthaati THi Daurr Kar
Youn Meray Liye Khud Ko Thakaaya Khushii Kay Saath
School Collegon Ki Shuroo Daurr Jabb Huii
Paison Ko Jorr Jorr Parhaaya Khushi Kay Saath
Jo Kuch Bhi Hoon Main Maan Ki Duaaon Se Aaaj Hoon
Khud Rah Kay Ghumm Main Mujhko Milaaya Khushi Kay Saath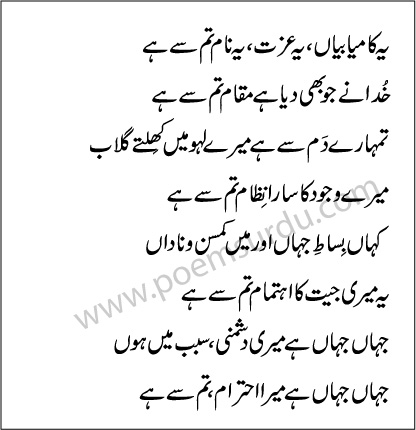 Mom Poetry in Urdu – 5
Ye Kamyabiyan Ye Izzat Yeh Naam Tumse Hay
Khuda Ne Jo Bhi Diya Hai Maqaam Tumse Hay
Tumharay Damm Say Hai Meray Lahu Mein Khiltay Gulaab
Meray Wajood Ka Saara Nizaam Tumse Hay
Kahaan Bisaat e Jahaan or Main Kamsin o Nadaan
Yeh Meri Jeet Ka Ahtamaam Tumse Hay
Jahaan Jahaan Hay Meri Dushmanii Sabab Main Hoon
Jahaan Jahaan Hai Meraa Ahtaraam Tumse Hay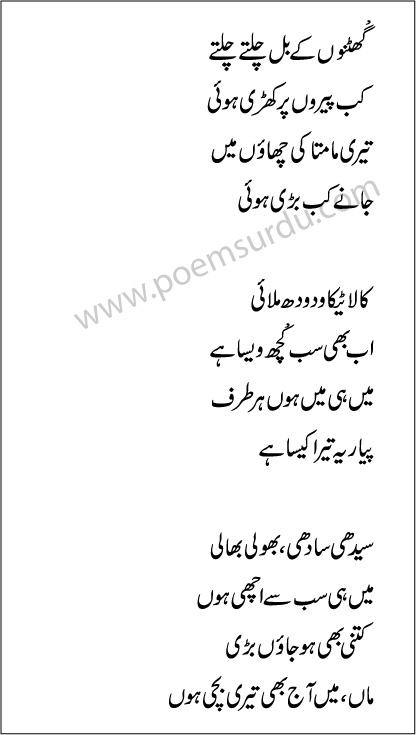 Maan Urdu Shayari – 6
Guthnon Kay Ball Chaltay Chaltay
Kab Pairon Pr Kharii Huii
Teri Mamta Kii Chhao'n Main
Janay Kb Barii Huwi
Kala Teeka Doodh Malaai
Ab Bhi Sab Kuch Waysa Hay
Main Hi Main Hoon Har Taraf
Pyaar Yeh Tera Kaysa Hay
Seedhi Saadi Bholi Bhaali
Main Hii Sab Say Achhi Hoon
Kitni BHi HoJaaon Barri
Maan, Main Aaj Bhii Teri Bachii Hoon
[adsense_inserter id="6236″]
Mother's Day Poetry in Urdu – Comments and Feedback
We collected the best pieces of Urdu poetry for Mother and shared it with you. Read the heart-touching poetry and dedicated it to your lovely mom.
Find more as Mother's Day Quotes in Urdu, Maan Ki Dua Poetry, Short Mothers Day Urdu Poems and Bahut Yaad Aati Hai Maa Poetry.