[adsense_inserter id="3414″]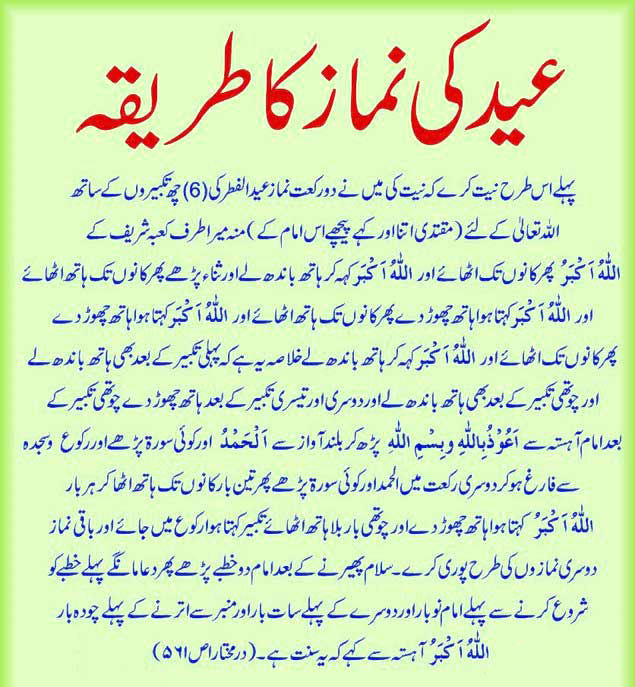 [adsense_inserter id="6236″]
Eid ki namaz ka tarika ap ki khidmat me pesh hai.
Niyat:
Mai do rakat wajib namaz e eid, 6 zaaid takbiron ke saath ada karta hoon.
Tarika:
Phir takbeer e tehreema keh kar haath baandh len or sana parh len.
Phir 3 martaba kaanon ko haath laga kar ALLAH O AKBAR kahen.
Har takbeer ke baad itna waqfa den ke 3 martaba SUBHAN ALLAH kaha ja sakey
2 martaba to takbeer ke baad haath khula chhor den or teesri martaba haath baandh kar agar imam hai to tilawat kare ga or agar muqtadi hai to suney ga.
Rukou or sajda karne ke baad jab dusri rakat ke liye khare ho jaaen to pehle surat fatiha ek or surat ke saath parhi jae gi. Imam tilawat kare ga or muqtadi sune ga.
Phir rukou mein jane se pehle 3 zaaid takbeeren hath utha kar kahi jaaen gi. Har martaba haath chhor den.
Phir chothi takbeer keh kar rukou mein chale jaen.
Baqia Namaz aam namazon ki tarhan hai. Eid ki namaz ke baad khutba parhna sunnat hai or sunna wajib hai.
Is doran bol chaal or namaz sub mamnou hai..
[adsense_inserter id="3100″]