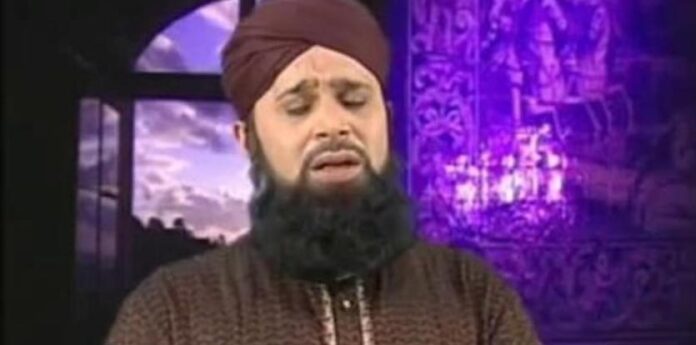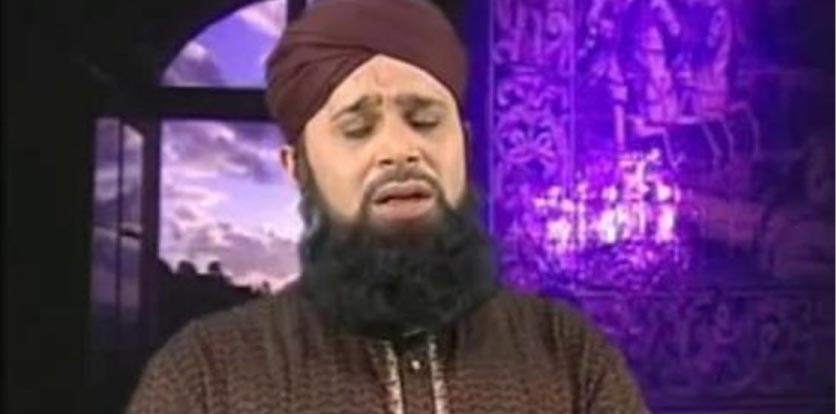 Listen Aaj Aaye Nabiyon Ke Sardar Marhaba naat audio online, download free mp3 and get lyrics in Urdu and Roman. This is a wonderful naat recited by Owais Raza Qadri for 12 Rabiul Awwal day.

Download Here (right click and choose Save Link As)
[adsense_inserter id="3100″]
Naat Lyrics in Urdu: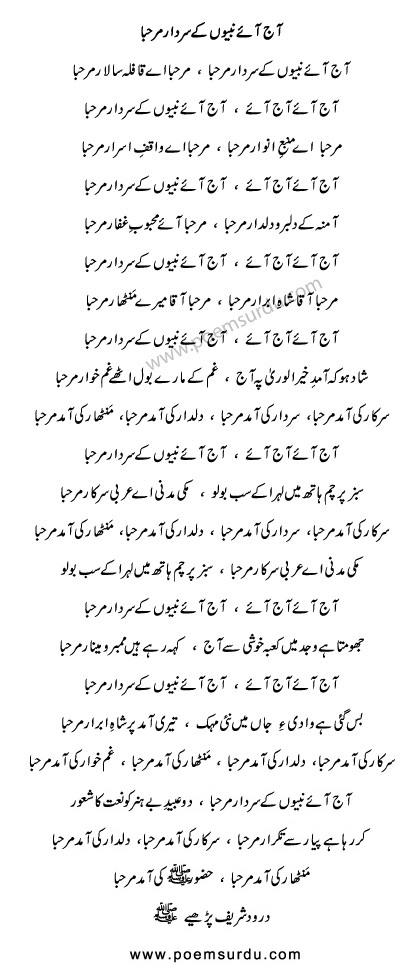 Aaj Aaye Nabiyon Ke Sardar Lyrics
Aaj aaye nabiyon kay sardar marhaba,
Marhaba aay qaflah salaar marhaba.
Aamna ke dilbar-o-dildar marhaba,
Marhaba aay mahboob-e-ghaffar marhaba.
Shaad hu ke aamad-e-kher ul warah he aaj,
Gham ke maarey bol uthaiy gham khuwar merhaba.
Sabz percham hath main lahra ke sab bolo,
Makki madani aay arabi sardar merhaba.
Jhoomta he wajad main kabah khushi main aaj,
Keh rahaiy hen mibar-o-menaar merhaba.
Bus gaye he vadi-e-jan main naei mehak,
Tairi aamad par shah-e-abraar merhaba.
Do obaid-e-bay huner ko naat ka shaour,
Ker raha he piyaar say takrar merhaba.
Naat Lyrics in Urdu Written:
آج آۓ نبیوں کے سردار مرحبا
مرحبا آۓ قافلہ سردار مرحبا
آمنہ کے دلبر و دلدار مرحبا
مرحبا آۓ محبوب غفار مرحبا
شاد ہو کہ آمد خیرالورا ہے آج
غم کے مارے بول اٹھے غم خوار مرحبا
سبز پرچم ہاتھ میں لہرا کے سب بولو
مکی مدنی اے عربی سردار مرحبا
جھومتا ہے وجد میں کعبہ خوشی میں آج
کہ رہے ہیں ممبر و مینار مرحبا
بس گئ ہے وادئ جان میں نئ مہک
تیری آمد پرشاہ ابرار مرحبا
دو عبید بے ہنر کو نعت کا شعور
کر رہا ہے پیار سے تکرار مرحبا
[adsense_inserter id="3414″]