September 6 Speech in Urdu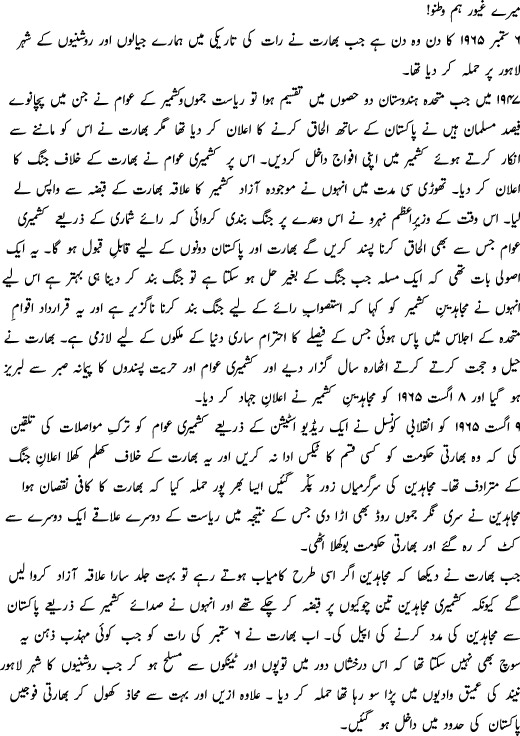 [adsense_inserter id="3100″]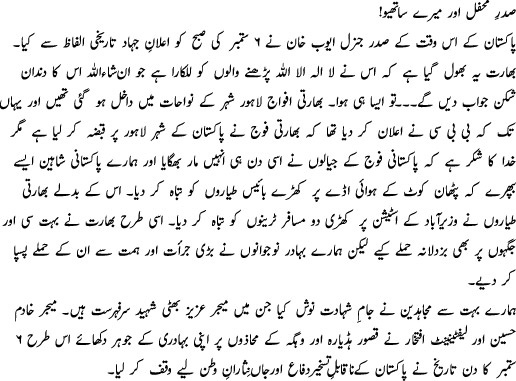 [adsense_inserter id="3414″]
6 september essay in English
My Countrymen!
6 September 1965 is the day when India attacked Lahore, the city of vivacious and lively people of Pakistan.
When in 1947, undivided India got partitioned into two, the people of Jammu and Kashmir, with 95% Muslim population, proclaimed to join Pakistan but India ignoring the decision of Kashmiri people, entered its army into Kashmir. Upon this, Kashmiris defied this occupation and started struggle against Indian occupation. In some time, they succeeded to regain some area which is known as Azad Kashmir today. Indian Prime Minister at that time Jawahar Lal Nehru got ceasefire on assurance of organizing a referendum in Kashmir. According to the referendum, Kashmiris would be able to use their right of self-determination and choose to merge with Pakistan or India and this will be accepted to both Pakistan and India.
This was a elementary and just action. As when a dispute could be solved without a war, then it is better to stop the war.
But it never happened!
And then Kashmiris started their struggle to get their freedom back. In the wake of freedom struggle by Kashmiris, on September 6 1965, India waged a war on Pakistan. Tanks, cannons attacked Lahore in the darkness of night but self-respecting and lively people of Pakistan, along brave Pakistan Army made this attempt failed.
My countrymen!
Pakistan president at that time, General Ayub Khan announced Jehad against Indian aggression. In the morning of September 6, 1965, he said:
"India forgot that he challenged a nation who recites La Ilaha Illallah and they will respond befittingly."
Indian army had entered some areas of Lahore but Pakistani brave soldiers, army men and people made them back off. Pakistan Airforce pilots destroyed 22 Indian jet fighters and gave heavy loss to the enemy.
Many of Pakistani soldiers got martyrdom in which Major Aziz Bhatti Shaheed's name is on the top. Major Khadim Hussain and Lieutenant Iftakhar showed their braveness at Qasoor, Hadhiyara and Wagha.
In memory of those brave fighters of Pakistan, we observe September 6 as Defence Day of Pakistan every year. Each Pakistani youth and child offers Salam to martyrs of Pak Army.