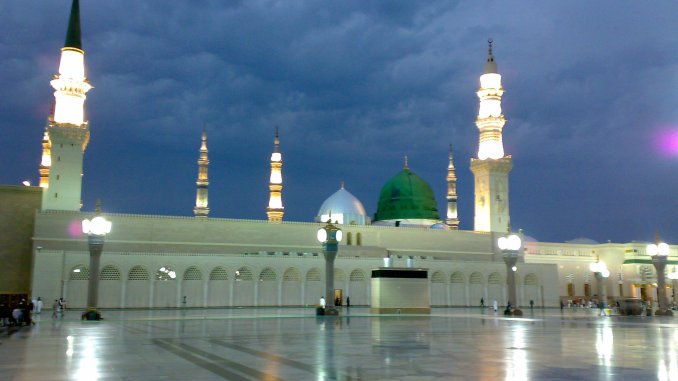 Listen and download Guzre Jis Raah Se Wo Syed e Wala Ho Kar Naat, one of the most beautiful kalams recited by Owais Raza Qadri.
Download Guzre Jis Rah Se Wo Naat Mp3
(right click and choose Save Link As)
[adsense_inserter id="3100″]
Guzre Jis Raah Se Woh Lyrics Download
This naat is also famous as Kalam e Ahmed Raza. PoemsUrdu.com also presents naat lyrics in Urdu and Roman.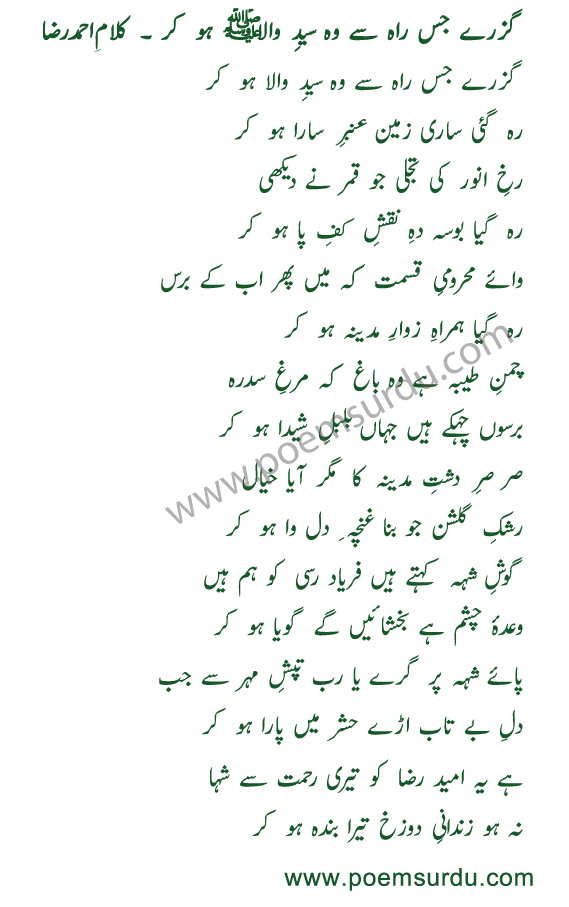 [adsense_inserter id="6236″]
Guzray Jis Raah Se Wo Lyrics in Urdu Written:
[pukhto_lek]
گزرے جس راہ سے وہ سیدِ والا ﷺ ہو کر ۔ کلامِ احمد رضا
گزرے جس راہ سے وہ سیدِ والا ہو کر
رہ گئی ساری زمین عنبرِ سارا ہو کر
رخِ انور کی تجلی جو قمر نے دیکھی
رہ گیا بوسہ دہ ِ نقشِ کفِ پا ہو کر
وائے محرومیِ قسمت کہ میں پھر اب کے برس
رہ گیا ہمراہِ زوارِ مدینہ ہو کر
چمنِ طیبہ ہے وہ باغ کہ مرغِ سدرہ
برسوں چہکے ہیں جہاں بلبلِ شیدا ہو کر
صر صرِ دشتِ مدینہ کا مگر آیا خیال
رشکِ گلشن جو بنا غنچہ ِ دل وا ہو کر
گوشِ شاہ کہتے ہیں فریاد رسی کو ہم ہیں
وعدہ چشم ہے بخشائیں گے گویا ہو کر
پائے شہہ پر گرے یا رب تپشِ مہر سے جب
دلِ بے تاب اڑے حشر میں پارا ہو کر
ہے یہ امید رضا کو تیری رحمت سے شاہَ
نہ ہو زندانیِ دوزخ تیرا بندہ ہو کر
[/pukhto_lek]
Guzray Jis Raah Se Naat Lyrics in Roman
guzre jis raah se wo SYED E WALA ho kar
reh gai sari zameen amber e sara ho kar

rukh e anwar ki tajalli jo qamar ne dekh
reh gaya bosa dahe naqsh e kaf e pa ho kar

waye mehroomi e qismat ke main phir ab ke baras
reh gaya hamrah e zawwar e madina ho kar

chaman e taiba he wo bagh ke murgh e sidra
barson chehke hen jahan bulbul e sheda ho kar

sar sar e dasht e madina ka magar aya khayal
rashk e gulshan jo bana ghuncha e dil wa ho kar

gosh e shah kehte hen faryad rasi ko ham hen
wada e chashm he bakhshaen ge goya ho kar

paye shah per gire ya rab tapish e meher se jab
dil e be taab urey hashar me para ho kar

he ye umeed raza ko teri rehmat se shaha
na ho zindani e dozakh tera banda ho kar

Kalam e Ahmed Raza Khan Barelvi

[adsense_inserter id="3414″]