Today I am going to tell you an easy mirchi pakora recipe in Urdu especially for Iftar. You can enjoy this delicious chilli pakora recipe with your family not only in Ramadan ul Mubarak but also in ordinary days in the evening. I am also providing the recipe in English for people living abroad.
Mirch Pakora Recipe in Urdu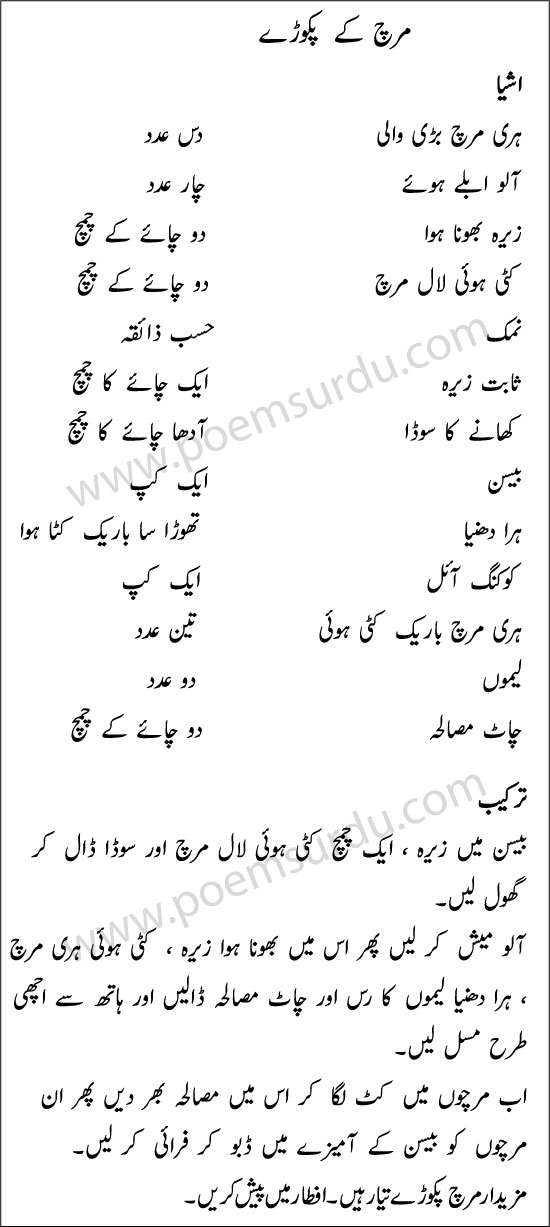 Mirch Pakora Recipe in English
Ingredients:
Big Green Chillies: 10 pcs
Boiled Potatoes: 4 pcs
Roasted Cumin Seeds: 2 tsp
Crushed Red Chillies: 2 tsp
Salt: as per taste
Whole Cumin Seeds: 1 tsp
Baking Soda: 1/2 tsp
Gram Flour: 1 cup
Green Coriander: few leaves (thinly chopped)
Cooking Oil: 1 cup
Small Green Chillies: 3 pcs (thinly chopped)
Lemon: 2 pcs
Chaat Masala: 2 tsp
Method:
Add whole cumin, 1 tsp crushed red chilli, baking soda and ample water to gram flour, mix well and make a mixture.
Mash boiled potatoes, add in roasted cumin, chopped green chillies, green coriander, lemon juice, and chaat masala. Mix well with your hands.
Now make a slit in each big green chilli lengthwise, stuff with spice mixture you made in the last step.
Prepare all green chillies alike.
Now dip chillies in gram flour mixture and fry in a wok.
Stuffed mirch pakora is ready.
Serve at iftar time and enjoy hot mirchi pakora.
This mirch pakora recipe in Urdu is very easy to make; in fact all you need to take ingredients in accurate quantity and mix them well. It is also called stuffed chilli pakora or stuffed mirch pakora in Pakistan and India.
Also don't forget to try out chicken pakora recipe and another masterpiece, the fish pakora recipe in Urdu at PoemsUrdu.com
You would love to enjoy them at iftar table, so keep this recipe handy with you and eat them whenever you want.
Incoming search terms:
mirch pakora recipe in urdu
pokora recepie in urdu