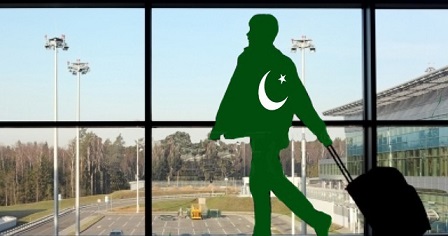 Fakhir Mehmood sang a very beautiful song for Pakistan, Tere Bina Dil Na Lage, Tere Bina Yeh Dil Na Laage PAKISTAN. Listen to this heart touching song audio online or download tery bina dil na lage mp3 free at poemsurdu.com. Also find lyrics in Urdu and roman. This naghma is dedicated to overseas Pakistanis who stay restless always when they are away from their homeland, friends and families.
Tere Bina Dil Na Lage Mp3 Download:
Download Song Here (Right click and choose save link as)
[adsense_inserter id="3100″]
Dil Na Lagay Fakhir Lyrics: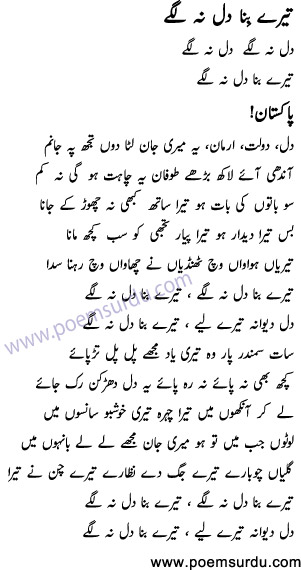 Tere Bina Dil Na Lagay Lyrics Roman:
Dil Na Lage Dil Na Lage
Tere Bina Dil Na Lage
PAKISTAN!
Dil Daulat Arman Ye Meri Jaan Luta Doon Tujh Pe Janam
Aandhi Aaye Lakh Barhe Toufan Ye Chahat Hogi Na Kam
Sau Baaton Ki Baat Ho Tera Saath Kabhi Na Chorr Ke Jana
Bus Tera Deedar Ho Tera Pyar Tujhi Ko Sub Kuch Mana
Teriyan Hawawan Wich Thandiyan Ne Chhawan Wich Rehna Sada
Tere Bina Dil Na Lage, Tere Bina Dil Na Lagay
Saat Samandar Paar Woh Teri Yaad Mujhe Pal Pal Tarpaye
Kuch Bhi Na Paaye Na Reh Paaye Ye Dil Dharkan Ruk Jaye
Le Kar Ankhon Mein Tera Chehra Teri Khushbu Saanson Mein
Lautoon Jab Main To Ho Meri Jaan Mujhe Le Le Baanhon Mein
Galiyan Chobaare Tere Jag De Nazare Tere Chan Ne Tera
Tere Bina Dil Na Lage, Tere Bina Dil Na Lagay
Dil Deewana Tere Liye Tere Bina Dil Na Lagay…
National Song by Fakhir Mehmood
[adsense_inserter id="3414″]