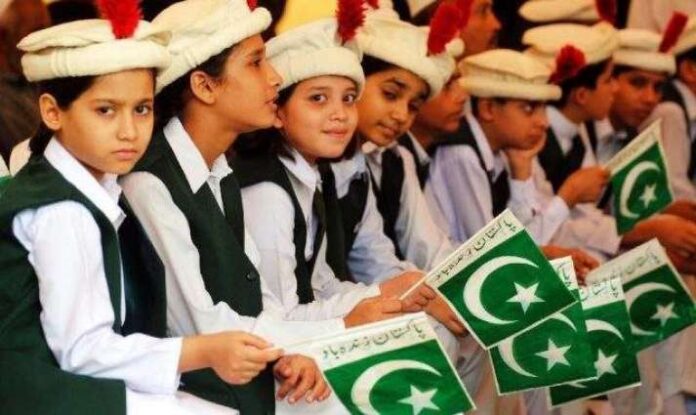 Find Pakistan Day Celebrations in English 120 words for class 7 and class 9 school students here.

[adsense_inserter id="6236″]
Pakistan Day, 23rd March, is one of the most instrumental and significant historical moments in the history of this great nation. It was the day when the idea of creating a separate nation for the Muslims of the subcontinent was presented as an attainable, realistic and well-defined goal for the very first time.
Today, Pakistanis celebrate this day as a national holiday, and it is commemorated all over the country with special parades, contests, national songs, and essay writing competitions, powerful speeches and processions.
Pakistan Day Celebration Essay in English 120 Words
Celebrating a happy Pakistan day is essential and important for Pakistanis as it was this day that made the creation of a separate Muslim state within the subcontinent a final reality. Before the 23rd March, the creation of a Pakistan was an idea that was subjected to ridicule and opposition by the Hindus and the British, and even Muslims and their leaders were pursuing conflicted interests to secure political gains for the Muslims.

But after the powerful speech of Muhammad Ali Jinnah, the Muslims were awakened from their reveries, and the fire for independence was ignited in their hearts. It was this day that made it crystal clear to the Muslims that the creation of their own separate Muslim state was their only goal and objective, and their only chance of acquiring political, religious and social freedom.
Happy Pakistan Day
Pakistanis celebrate this historical day with great zest and enthusiasm, they greet each other happy Pakistan day as a tribute to the determination and dedication of Muhammad Ali Jinnah, and the millions of Muslims who struggled to create the nation we call home.


[adsense_inserter id="6236″]
Pakistan Day Essay for Class 7,8 and 9
In school, when an elementary student is asked to pin down a Pakistan Day celebration essay in English, it is the perfect opportunity to introduce this child to the dynamic leader that was Quaid-e-Azam Muhammad Ali Jinnah, and the address that took place on the 23rd March, 1940 in the grounds of Minto Park. It allows this child to truly grasp the essence and the need to create Pakistan, which naturally also fuels the passion and love he/she has for their country.
Pakistan day is not just about the successful creation of the first Islamic Republic in the world or altering the entire map of this planet, but it is mostly about the hardships and sacrifices of Quaid-e-Azam, Muslim leaders and our forefathers.
See a detailed essay speech on 23 March in English here.
[adsense_inserter id="3100″]