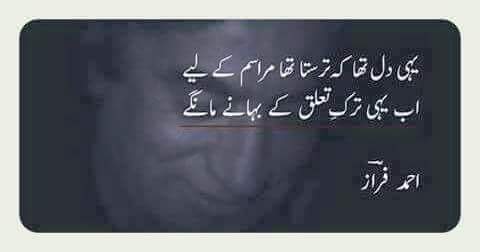 Faraz Famous Sher: Ahmed Faraz has probably been one of the most famous poets of Pakistan. Any poetry lover must know about Faraz or remembers some of Faraz's couplets. Faraz used his penname 'faraz' in his poetry; and many of his couplets went popular after his penname. In this topic we will post the most famous couplets/ashaar of Ahmed Faraz. Let's know which Faraz shair your like.
Kon Kis K Sath Ktna Mukhlis Hy Faraz
Waqt Har Shakhs Ki Auqaat Bata Deta Hai

---
Saleeqa ho agar bheegi aankhon ko parhne ka Faraz!
To behte huwe aansoo bhi akser bat kartey hen!
---
Us Ki woh jane usey pas wafa tha ke na tha
Tum Faraz apni taraf se to nibhate jate..
---
Yehi dil tha ke tarasta tha marasim ke liye
Ab yehi tark e talluq ke bahane maange
---
Hilal e eid ko dekho to rok lou aansu
Jo ho sakay to mohabbat ka ihtaram karo
---
Ro para hoon to koi baat hi aisi hogi
Mein ke waqif tha tere hijar ke adaab se bhi…
---

[adsense_inserter id="3100″]