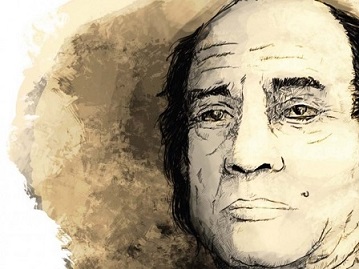 Find Urdu lyrics of Sohni Dharti ALLAH Rakhe Qadam Qadam Abaad, one of the best and the first Pakistani national songs (milli naghma). Let's celebrate the patriotism with this classical beauty.
Song Info:
Sung by:
Mehdi Hassan
Shahnaz Begum
Release Year/Date: 1970s
Poet: Masroor Anwar
Sohni Dharti Lyrics in Urdu

Lyrics in English (Roman):
Following are the lyrics of Sohni Dharti Allah Rakhe song in English (actually called Roman Urdu).
Sohni Dharti
Sohni Dharti ALLAH Rahkhay
Qadam Qadam Abad
Qadam Qadam Abad Tujhe, Qadam Qadam Aabad Tujhe
Sohni Dharti ALLAH Rahkhay
Qadam Qadam Abad
Qadam Qadam Abad Tujhe, Qadam Qadam Aabad Tujhe
Sohni Dharti ALLAH Rahkhay
Tera Har Ik Zarra Hum Ko Apni Jaan Say Pyara
Tera Har Ik Zarra Hum Ko Apni Jaan Say Pyara
Tere Dam Se Shaan Humari, Tujh Se Naam Humara
Jab Tak Hai Yeh Dunya Baqi Hum Dekhen Azaad
Hum Dekhain Azaad Tujhay
Sohni Dharti
Sohni Dharti ALLAH Rahkhay
Qadam Qadam Abad, Qadam Qadam Aabad Tujhay
Qadam Qadam Abaad Tujhay
Sohni Dharti ALLAH Rahkhay
Teri Pyari Saj Dhaj Ki Hum Itni Shan Barhaen
Teri Pyari Saj Dhaj Ki Hum Itni Shan Barhaen
Aanay Wali Naslen Teri Azmat Ke Gun Gaayen
Jab Tak Hai Ye Dunya Baqi Hum Dekhen Azaad
Hum Dekhen Azaad Tujhay
Sohni Dharti
Sohni Dharti ALLAH Rahkhay
Qadam Qadam Aabad
Qadam Qadam Aabad Tujhe
Qadam Qadam Aabad Tujhe
Sohni Dharti ALLAH Rahkhay
Qadam Qadam Aabad
Qadam Qadam Aabad Tujhe
Qadam Qadam Aabad Tujhe
Sohni Dharti ALLAH Rahkhay
Sohni Dharti ALLAH Rahkhay