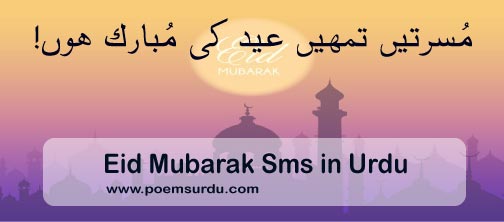 Find lovely Eid Mubarak Sms in Urdu to send to your friends, relatives and family members. Eid ul Fitr is an occasion of happiness, love, joys and care and we all Muslims celebrate this day by saying Eid Mubarak Habibi, sending Eid messages and Eid cards to our dear ones. Here is a great collection of Eid special sms to text to your loved ones.
[adsense_inserter id="3414″]
Find great collection of Eid greeting msgs and text to your contacts early in the Eid morning.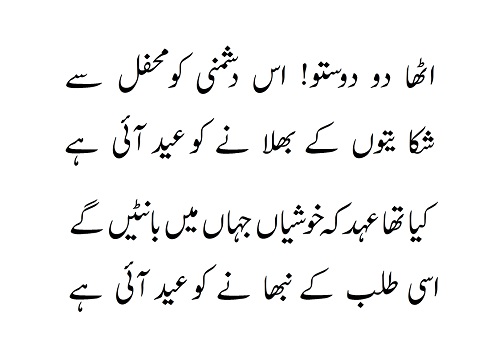 اُٹھادو دوستوں اِس دُشمنی کو محفل سے
شکایتوں کے بھُلانے کو عید آئی ہے
کیِا تھا عہد کہ خوشیاں جہاں میں بانٹیں گے
اِسی طلب کے نبھانے کو عید آئی ہے۔۔۔
[adsense_inserter id="5423″]
---
Eid Mubarak Dua Sms:
کوئی غم بھی تیرے پاس نہ ہو
تیری آنکھیں کبھی اداس نہ ہوں
کبھی تنہائی کا تجھے احساس نہ ہو
تیرے ہونٹوں پہ کبھی پیاس نہ ہو
تو دعا جو کرے تو پوری ہو
اپنوں سے کبھی نہ دوری ہو
درپیش تجھے نہ مجبوری ہو
خواہش کبھی نہ ادھوری ہو
عید مبارک
---
ابرِ رحمت بن کے چھا جائو پیامِ عید ہے
چار سُو اِک نور برسائو پیامِ عید ہے
غمزدہ جو بھی نظر آئے کرو غم اس کا دور
مندمل کردو ہر اِک گھائو پیامِ عید ہے
---
ُتُحفہ دُعائوں کا تُمھیں پُہنچے میرا
سدا رہے تُمھارے گِرد خوشیوں کا گھیرا
مُسرتیں تُمھیں عید کی مُبارک ہوں
تُمھاری زیست میں نہ آئے کبھی غموں کا پھیرا
---
Aao Keh Hum Milain Aj Eid Ka Din Hai
Mussaraton, Muskurahatton or Deed Ka Din Hai
Gilay Bhulain Ab Dilon Ko Saaf Kar Lain
Ranjishain Bhulain Keh Saa'at e Saeed Ka Din Hai
آئو کہ ہم ملیں آج عید کا دِن ہے
مُسرتوں ، مُسکراہٹوں اور دید کا دِن ہے
گِلے بھُلائیں اب دِلوں کو صاف کر لیں
رنجشیں بھُلائیں کہ ساعتِ سعید کا دِن ہے
!عید کی خوشیاں مبارک ہوں۔۔
---
Roshan Roshan Din Hoo Saara,
Roshan Roshan Raat!
Hr Janib Sey Ho Eid Kay Din
Khushiyon Ki Barsaat!
Eid ul Fitr Mubarak
روشن روشن دِن ہو سارا
روشن روشن رات
ہر جانب سے ہو عید کے دِن
خوشیوں کی برسات
عید الفطر مبارک
---
 Kuch Musarat Mazid Ho Jaaye
Is Bahanay Sey Eid Ho Jaaye
Eid Milan Ko Jo Aap Ajayen
Hamari Eid Bhi Eid Ho Jaaye
کُچھ مُسرت مزید ہو جائے
اِس بہانے سے عید ہو جائے
عید مِلن کو جو آپ آجائیں
ہماری عید بھی عید ہو جائے
!عید کی خوشیاں مُبارک
---
Khushiyon Say Bhari
Phoolon Say Dhaki
Khushbou'n Mei Bassi
Rangon Say Saji
Taaron Mei Chhupi
Sapno'n Mei Dhali
Or Shabnam Say Dhuli
Eid Mubarak to All of You!
خوشیوں سے بھری
پھولوں سے ڈھکی
خوشبوءوں میں بسی
رنگوں سے سجی
تاروں میں چھُپی
سَپنوں میں ڈھلی
اور شبنم سے دھُلی
!آپ سب کو بہت بہت عید مُبارک
---
[adsense_inserter id="3100″]
---
mai nay chaha tujhey eid peh
kuch paish karon
jis mei ehssas kay sab rang hon
Roshan Roshan
jis mei ankhon kay tarashay
huwe moti hon laakhon
jis mei shamil ho mere qalb ki
Dharkan Dharkan
میں نے چاہا تُجھے عید پہ کچھ پیش کروں
جِس میں احساس کے سب رنگ ہوں
روشن روشن
جِس میں آنکھوں کے تراشے ہوئے موتی ہوں لاکھوں
جس مٰیں شامل ہو میرے قلب کی
دھڑکن دھڑکن

---
EID Ka Din Mubarak
Ye duaa mangtay han hum Eid ke din,
Baki na rahay aap ka koi gham Eid ke din,
Aap kay aangan mei utray har roz khushion bhara chaand
or Mehekta rahay phoolon se chaman Eid ke din.
عید کا دِن مُبارک
یہ دُعا مانگتے ہیں ہم عید کے دِن
باقی نہ رہے آپ کا کوئی غم عید کے دِن
آپ کے آنگن میں اُترے ہر روز خوشیوں بھرا چاند
اور مہکتا رہے پھولوں سے چمن عید کے دِن
---
Hum Aap Ki Yaad Mein Udaas Han
Bas Aap Sey Milney Ki Aass Hai
Chaahe Dost Kitney Hi Kyu Na Hoon
Meray Lye To Aap Hi Sab Say Khaas Han
Happy Eid Mubarak to My Very Special Friend!
ہم آپ کی یاد میں اُداس ہیں
بس آپ سے ملنے کی آس ہے
چاہے دوست کتنے ہی کیوں نہ ہوں
میرے لیے تو آپ ہی سب سے خاص ہیں
!میرے بہت ہی خاص دوست کو خوشیوں بھری عید مبارک ہو۔۔
---
Eid Mubaarak!
ALLAH TAALA Say Aaj Kay Din
Meri
Ye Iltijaa aur Dua Hay Keh Agli Eid
Hum Saath Karen.
عید مبارک
اللہ تعالٰی سے آج کے دِن میری یہ دُعا اور التجا ہے کہ اگلی عید ہم ساتھ کریں
---
Hope you liked Eid Mubarak Sms collection at poemsurdu.com; If you want to suggest another Eid Sms in Urdu, you can submit in comments, we will add it after review.
Happy Eid Mubarak 2016 to you too!
---
Salam and Eid Mubarak!
Zara Sochiye Keh Aaj Ke Baad Kiya Hoga?
Masjidain Ho Jain Gi Veeran
Almariyon Mein Band Ho Jaain Ge Qura'n
Azad Ho Jaye Ga Shetan
Phir Gunnahon Mein Doob Jaye Ga Insaan!
Dilon Kay Zang Doour Kar De YA RAHMAN
Hum Reh Gaye Hain Sirf Ramzan Ke Musalman
Eid ul Fitar Mubarak!
---
Aaj Khuda ki hum par ho Meharbani,
Karde maf hum logo ki sare Naformani,
Eid Ka din aj aao milka kare yahi wada,
Khuda ka hi raho mai hum chalange sada.
Sare Musalmanon ko EID MUBARAK
---
[adsense_inserter id="3100″]