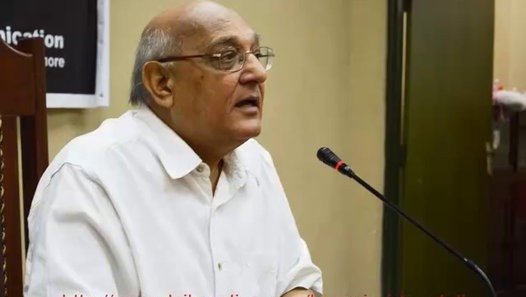 Mohabbat Ki Ek Nazam
[adsense_inserter id="6236″]
Mohaabt Ki Aik Nazam by Amjad Islam Amjad
Agar kbhi meri yaad aye
To chand rato ki naram dilgir roshani mein
kisi sitarey ko dekh lena
agar wo nakhl falak se ur kar tumharey qadamon mein aa girey
to jan lena
wo istiara hai meray dil ka
agar na aye….
magar ye mumkin hi kis tarha hai
k tm kisi pay nigah dalo
to us ki dewar-e-jan na tutay
wo apni hasti na bhool jaye
agar kabhi meri yaad aya
gureiz karti hawa kilehron pay hath rakhna
mein khushboo mein tmhein miloonga
mjhe gulabon ki patiyo mein talash krna
mein os qatron k aieno mein tumhein miloonga
agr sitaro mein os qatron men khushboo mein
na pao mujh ko
to apne qadamo mein dekh lena
mein gard hoti musafato mein tumhe miloonga
kahin pay roshan charagh dekho
to jan lena k
har patange k sath mein bhi bikhar chuka hoon
tum apne hatho se in patango ki rakh darya mein dal dena
mein khak ban kar samandro mein safar karon ga
kisi na dekhe huey jazirey pa ruk kr
tumko sadaie doonga
samndro k safar pa niklo
to is jaziray par bhi utarna…!
Mohabbat Ki Aik Nazam in Urdu Written:
محبت کی ایک نظم

اگر کبھی میری یاد آۓ
تو چاند راتوں کی نرم دلگیر روشنی میں
کسی ستارے کو دیکھ لینا
اگر وہ نخل فلک سے اڑ کر تمہارے قدموں میں آ گرے
تو جان لینا
وہ استعارہ ہے میرے دل کا
اگر نہ آۓ
مگر یہ ممکن ہی کس طرح ہے
کہ تم کسی پہ نگاہ ڈالو
تو اس کی دیوار جان نہ ٹوٹے
وہ اپنی ہستی نہ بھول جاۓ
اگر کبھی میری یاد آۓ
گریز کرتی ہوا کی لہروں پہ ہاتھ رکھنا
میں خوشبو میں تمہیں ملوں گا
مجھے گلابوں کی پتیوں میں تلاش کرنا
میں اوس قطروں کے آینوں میں تمہیں ملوں گا
اگر ستاروں میں اوس قطروں میں خوسبو میں نہ پاؤ مجھ کو
تو اپنے قدموں میں دیکھ لینا
میں گرد ہوتی مسافتوں میں تمہبں ملوں گا
کہیں پہ روشن چراغ دیکھو
تو جان لینا کہ
ہر پتنگے کے ساتھ میں بھی بکھر چکا ہوں
تم اپنے ہاتھوں سے ان پتنگوں کی راکھ دریا میں ڈال دینا
میں خاک بن کر سمندروں میں سفر کروں گا
کسی نہ دیکھے ہوۓ
جزیرے پہ رک کر
تم کو صدائیں دوں گی
سمندروں کے سفر پہ نکلو
تو اس جزیرے پہ بھی اترنا!!!!
[adsense_inserter id="3100″]