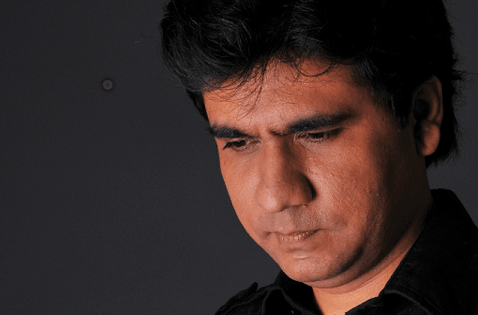 Us Ki Aankhon Mein Mohabbat Ka Sitara Hoga
Aik Din Aai Ga Wo Shakhs Hamara Ho Ga,
Tum Jahaan Meray Liye Seepiyan Chunti Ho Gi
Woh Kisi Or Hi Dunya Ka Kinaara Hoga,
Zindagi..! Ab Keh Mera Naam Na Shamil Kerna
Gar Ye Tai Hay Keh Yahi Khail Dobara Ho Ga,
Jis Ke Honay Say Meri Saans Chala Karti Thi
Kis Tarhaan Us Kay Baghair Guzaara Ho Ga,
Ye Achaanak Jo Ujaala Saa Hua Jaata Hay
Dil Ne Chupke Say Taira Naam Pukara Ho Ga,
Ishq Karna Hai To Din Raat Usay Sochna He
Or Kuch Zehn Mein Aaya To Khasaara Ho Ga,
Yeh Jo Pani Mein Chala Aaya Sunahri Sa Ghuroor
Us Nay Darya Mein Kahin Paon Utaara Hoga,
Kaun Rota Hai Yahaan Raat Kay Sannaton Main
Meray Jaisa Hi Koi Hijr Ka Maara Ho Ga,
Mujh Ko Maloom Hai Juunhi Mai Qadam Rakhun Ga
Zindagi Tera Koi Aur Kinara Hoga,
Jo Mairi Rooh Mein Badal Se Garajtay Han Wasi
Usnay Seenay Mein Koi Dard Utaara Hoga,
Kaam Mushkil He Magar Jeet Hi Longa Usko
Meray Mola Ka Wasi Joonhi Ishara Hoga!!
[adsense_inserter id="3100″]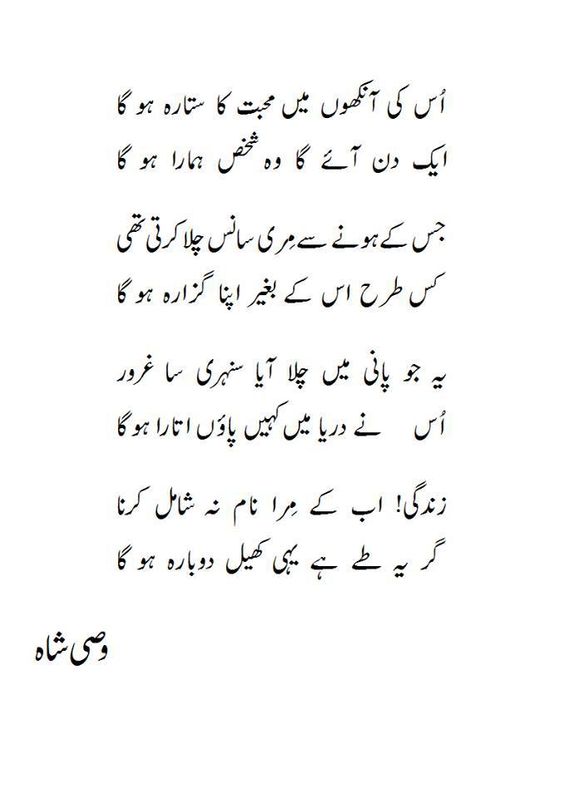 Us Ki Aankhon Mein Mohabbat Ka Sitara Hoga in Urdu Written

اس کی آنکھوں میں محبت کا ستارہ ہوگا
ایک دن آئے گا وہ شخص ہمارا ہوگا
تم جہاں میرے لئے سیپیاں چنتی ہوگی
وہ کسی اور ہی دنیا کا کنارہ ہوگا
زندگی! اب کے مرا نام نہ شامل کرنا
گر یہ طے ہے کہ یہی کھیل دوبارہ ہوگا
جس کے ہونے سے میری سانس چلا کرتی تھی
کس طرح اس کے بغیر اپنا گزارا ہوگا
یہ اچانک جو اجالا سا ہوا جاتا ہے
دل نے چپکے سے ترا نام پکارا ہوگا
عشق کرنا ہے تو دن رات اسے سوچنا ہے
اور کچھ ذہن میں آیا تو خسارہ ہوگا
یہ جو پانی میں چلا آیا سنہری سا غرور
اس نے دریا میں کہیں پاؤں اُتارا ہوگا
کون روتا ہے یہاں رات کے سناتوں میں
میرے جیسا ہی کوئی ہجر کا مارا ہوگا
مجھ کو معلوم ہے جونہی میں قدم رکھوں گا
زندگی تیرا کوئی اور کنارہ ہوگا
جو میری روح میں بادل سے گرجتے ہیں وصی
اس نے سینے میں کوئی درد اتارا ہوگا
کام مشکل ہے مگر جیت ہی لوں گا اس کو
میرے مولا کا وصی جونہی اشارہ ہوگا
[adsense_inserter id="3414″]