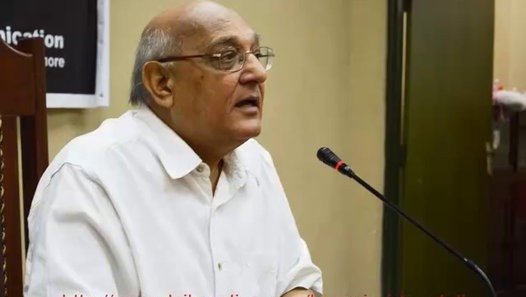 Read beautiful Urdu Ghazal Bewafai Ki Mushkilen by Amjad Islam Amjad
Jo Tm Ne Thaan Hi Lii He
Hamare Dil Se Nikalo Ge
To Itnaa Jaan Lo Piaare
Wafa Ki Seerhio Per Her Qadam Pheila Hua
Ye Aarzuoon Ka Lahoo Zaaia Na Jaaye Ga!
Samandar Saamne Hogaa, Agar Saahil Se Nikalo Ge!
Sitaare, Jin Ki Aankho Ne Hamein Ik Saath Dekhaa He,
Gawaahii Deine Aaienge!
Puraane Kaaghazo Ki Balkoni Se Bohat Se Lafz Jhaankein Ge,
Tumhein Waapis Bulaaien Ge!
Kai Waadei, Fasaadi Qaraz_Khuwaho Ki Tarah Raaste Mein Rokein Ge
Tmhe Daaman Se Pakrein Ge
Tmhaari Jaan Khaaien Ge!
Chupa Kar Kis Tarah Chahra
Bhari Mahfil Se Niklo Ge!
Zara Phir Soch Lo Jaana,
Nikal To Jaao Ge Shaaiad,
Magar Mushkil Se Nikalo Ge!!
Amjad Islam Amjad
بے وفائی کی مشکلیں
جو تم نے ٹھان ہی لی ہے
ہمارے دل سے نکلو گے
تو اتنا جان لو پیارے
وفا کی سیڑھیوں پر ہر قدم پھیلا ہوا
یہ آرزوؤں کا لہوضائع نہ جاۓ گا
سمندر سامنے ہوگا اگر ساحل سے نکلوگے
‏ستارے جن کی آنکھوں نےہمیں ایک ساتھ دیکھا ہے
گواہی دینے آئنگے
پرانے کاغذوں کی بالکنی سے بہت سے لفظ جھانکیں گے
تمہیں واپس بلائیں گے
کئ وعدے، فسادی قرض خواہوں
کی طرح راستے میں روکیں گے
تمہیں دامن سے پکڑیں گے
تمہاری جان کھائیں گے
چھپا کر کس طرح چہرہ
بھری محفل سے نکلو گے
ذرا پھر سوچ لو جاناں
نکل تو جاؤ گے شاید
مگر مشکل سے نکلو گے
امجد اسلام امجد
[adsense_inserter id="3100″]