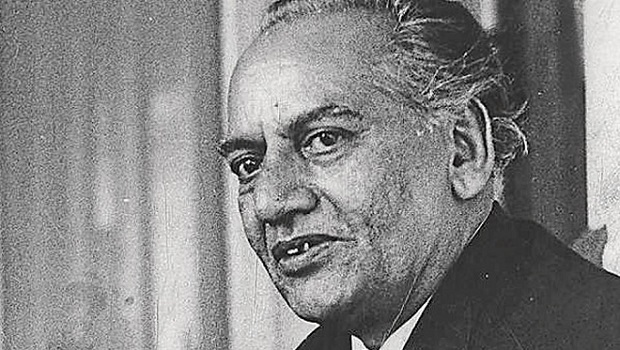 Baat Bas Say Nikal Chali Hai is a famous Ghazal by Faiz Ahmed Faiz. It is still read and recited by poets and poetry lovers.
[adsense_inserter id="6236″]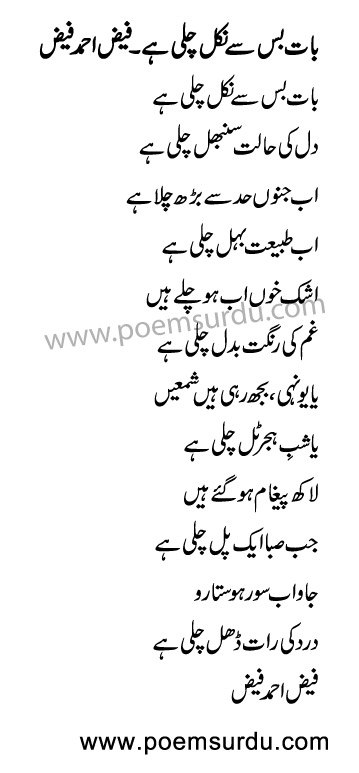 Baat bas se nikal chali hai
Dil ki halat sambhal chali hai
Ab junoon had se barh chala he
Ab tabiat behal chali he
Ashk khoon ab ho chale hen
Gham ki rangat badal chali he
Ya yoohi bujh rahi hen shaamai
Ya shab-e-hijar tal chali he
Laakh peghaam ho gai hen
Jab saba ek pal chali he
Jaao ab so raho sitaaro
Dard ki raat dhal chali he..
[adsense_inserter id="3100″]
[pukhto_lek]
بات بس سے نکل چلی ہے
دل کی حالت سنبھل چلی ہے
اب جنوں حد سے بڑھ چلا ہے
اب طبیعت بہل چلی ہے
اشک خوں اب ہو چلے ہیں
غم کی رنگت بدل چلی ہے
یا یونہی، بجھ رہی ہیں شمعیں
یا شبِ ہجر ٹل چلی ہے
لاکھ پیغام ہو گئے ہیں
جب صبا ایک پل چلی ہے
جاو اب سو رہو ستارو
درد کی رات ڈھل چلی ہے
[/pukhto_lek]
[adsense_inserter id="3414″]