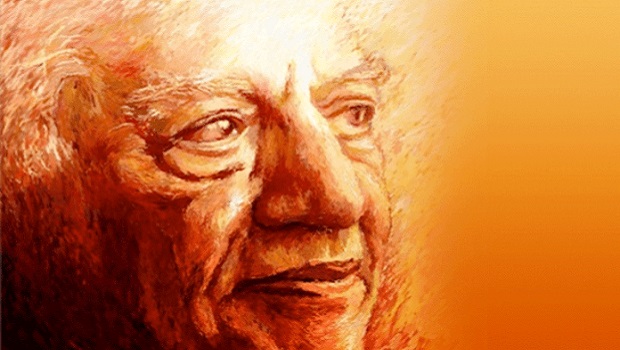 Ab Jo Koi Puche Bhi To is one of the best sad ghazals by Faiz Ahmed Faiz.
Enjoy this beautiful piece of poetry in Urdu and Roman.
[adsense_inserter id="6236″]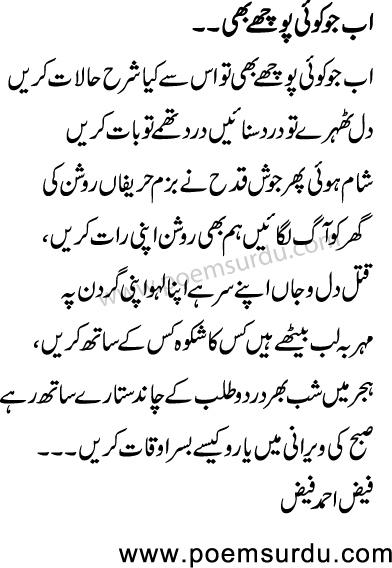 Ab Jo Koi Puche Bhi
ab jo koi pooche bhi to us se kia sharaah-e-halaat kahein,
dil thaihre to dard sunaaie dard thame to baat karai,
shaam hui phir josh-e-qadah ne bazam-e-harifaa roshan ki,
ghar ko aag lagaaie ham bhi roshan apni raat karai,
qatal-e-dil-o-jaa apne sar hai apna lahoo apni gardan par,
mohar–ba-lab bethai hai kis ka shikwa kis ke saath karai,
hijar mai shab bhar darad-o-talab ke chaand sitaare saath rahe,
subah ki wiraani me yaaro kese basar aokaat karai..
اب جو کوئی پوچھے بھی تو اس سے کیا شرح حالات کریں
دل ٹھہرے تو درد سنائیں درد تھمے تو بات کریں
شام ہوئی پھر جوش قدح نے بزم حریفاں روشن کی
گھر کو آگ لگائیں ہم بھی روشن اپنی رات کریں،
قتل دل و جاں اپنے سر ہے اپنا لہو اپنی گردن پہ
مہر بہ لب بیٹھے ہیں کس کا شکوہ کس کے ساتھ کریں،
ہجر میں شب بھر درد و طلب کے چاند ستارے ساتھ رہے
صبح کی ویرانی میں یارو کیسے بسر اوقات کریں ۔ ۔ ۔
فیض احمد فیض
[adsense_inserter id="3414″]